Perfect Weekend Hiking Spots
There's a whole afternoon lingering in your weekend — definitely not a time to start homework (there's always time tomorrow to finish it). So, you, of course, would choose to stay home, rather than to take a breath of fresh air outside. Going outside takes a lot of work and your neighborhood looks mundane, but don't let it stifle your desire to be with nature. 
Behold, and allow me to present to you an alternative: hiking! 
When I spend a Saturday afternoon basking in the sun's rays with the soft terrain underneath my shoes, it is my safe haven for the week. But, that's until it's Monday again and I go back to my endless piles of schoolwork, stress and sleepless nights. 
I urge you to take the effort to go on a hike along with friends or family, but think of it as a journey! That way, after hiking once, this experience won't end, instead it will be the start of an adventure. 
Thus, I present to you some of my all time favorite hiking spots, two out of a hundred trails I went on (or maybe more than a hundred). 
1. Hawn State Park
According to AllTrails, which is an app that holds over 200,000 trails with reviews and ranking, Hawn State Park is the fourth best state park in Missouri. If this doesn't prompt you to at least consider this extraordinary state park as a hiking option, I'd advise you to rethink… please. The classic, renowned state park isn't close to being overrated. The park holds forests of pine and oak trees with grandeur sandstone canyons on either side of the river, which runs through many of the trails. There are around 7 main trails situated in the park, with all welcoming dogs on lease. Although I only have endeavored on Whispering Pines Trail, which is a 11.3 mile trail that does show the river, the other trails are equally as great. I would recommend Whispering Pines Trail, as the river creates scenic views along with being an area where individuals can rest and play. A big bonus is that the trail is well maintained and nicely marked, so it's easy to navigate. Furthermore, the unusual rock formations enhance the beauty and wildlife thrive throughout the park. AllTrails states that "Whispering Pines Trail is one trail that should not be missed," so please check out the trail along with the other trails and the park itself. This will be a lovely worthwhile hiking experience!
2. Weldon Spring Loop
I recommend the Weldon Spring Loop for two reasons: the trail itself and the memories I had with it. Firstly, there are 3 main trails. But they are all relatively easy roads, since it's mostly flat ground. While in total it's around 13.2 miles, you can always turn around at your own pace and desired mileage. This would be an ideal trail with a dog, since it's very accessible, even all year-round. Along the trail, a majestic ribbon-like river continues beside it, adding wonderful scenery. With this, I deeply enjoyed the trail. This is because, on that day with my family, we were low on time and needed to find somewhere to hike. We were about to go to the Lewis and Clark Trail a third time, but there were no parking spots. About to give up in frustration, my family and I gave it a try and decided to explore Weldon Spring Conservation area for a few minutes to see if there were other trails. To our surprise, we discovered more hiking trails, thus coming across the Weldon Spring Loop. The run was radiant as we spent hours laughing and talking while hiking. A perfect afternoon doing the perfect activity, as hiking brings both physical and mental positive benefits. Therefore again, a 10/10 for the trail and wholeheartedly recommend. 
With this, I'll leave you to either spend those afternoons sulking at home, or maybe you could try to at least hike one trail. Spend some time with the trees, with the grass and with nature, as it is already beginning to disappear without a trace.
Leave a Comment
About the Contributor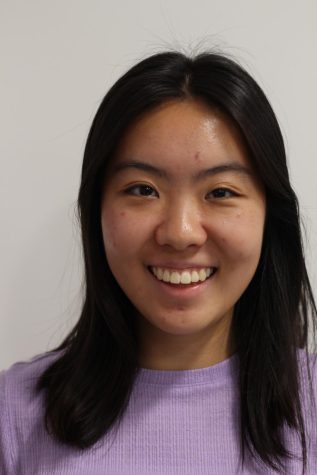 Annie Zhao, In Depth Editor
This is junior Annie Zhao's second year on the Panorama, and she is the In-Depth editor. Zhao enjoys indulging herself in Studio Ghibli movies, browsing...