Evolve reviewed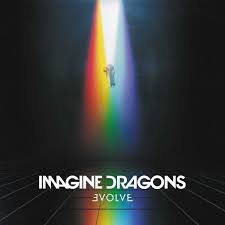 Last week (month? year?) we reviewed my favorite comfort album, Melodrama, and this week, we're reviewing Ryan's… And surprise, surprise, it's Imagine Dragons' Evolve. Before I start this review, I feel like I should preface it with a warning: I might come off a bit harsh, because every time I have EVER sent Ryan a song I am excited about and/or makes me happy, his response has been the following: 
"Oviya what this is so old" (in response to a 2018 song, and coming from someone who thinks music peaked with 2015 pop, by the way)
"Meh"
"Eh not that good"
"I guess it's fine"
So yeah, I may not be the least-hostile ever about this, but keep in mind that everything said in this review is fully deserved. Anyway, back to Evolve. 
I'll start with what I did know previously, and what you're most likely to recognize, too: "Believer", "Thunder" and "Whatever It Takes." The songs themselves are fine, if not overplayed. I feel like the kind of people that listen to this are the kind of people who enjoy discussing pre-workout brands. Stylistically, they bleed into each other, forming one large superthing of half-yelly, somewhat-intense music with canned lyrics. 
Next to Me, first up on the album, surprised me! Kind of… not really. A song about love and loyalty, it was about as close to romantic and sappy as the Imagine Dragons could muster––the lyrics felt a bit repetitive and hollow. While not horrible to listen to, the same, shout-y, intensely-aggressive, Imagine-Dragons-style was combined with an attempt at softer music, leaving my brain struggling to categorize the song. Other songs that fall under the is-this-romantic category: I'll Make It Up to You, Mouth of the River (these both feel like a To All the Boys soundtrack hit from an alternate timeline, but I'd recommend the former more.)
The rest of the album can be categorized as follows:
These songs play inside Express, Forever 21 or other way-too-dimly-lit mall stores where the employees have nose rings and definitely hate you, the store smells like perfume and spilled mall-coffee and there are huge sales banners hung up in the window all the time yet every single item of clothing seems to be excluded from the sales promotion: I Don't Know Why, Dancing in the Dark. 
Disney/Pixar soundtrack music, but not the Mulan-Moana-Coco variety––think more Wreck-it Ralph: Walking the Wire, Rise Up, Yesterday (would avoid), Start Over. 
All of these songs are more-or-less good, but they miss the mark in different ways––they're catchy, but the lyrics leave a little to be desired. They're meaningful and fun to listen to, but they leave you confused in terms of what you just listened to. The main problem lies with the band's loyalty to their style (Autotune, yelling, and loud beats) and attempt to explore different feelings that don't necessarily cohere with this style––the result? First, after listening to Evolve a few times, you know logically these are all different songs with distinct sounds… but you just can't seem to pick them apart from one another. Second, and more importantly, a confusing album of music that doesn't match the Imagine Dragons' range. 
Ryan's Response:
If I ever walk into Express with the Evolve playing inside, I'm a happy man.
Oviya's complaints seem to fall into two categories: the principle, and the fact that good music is good music. Now, some of it I understand. Imagine Dragons isn't the most culturally appreciated band. If you ever drop your favorite Imagine Dragons song, you'll never live past the constant ridicule of being a basic, uncultured music "fan." Oviya is one of those people that perpetuates this anti-Imagine Dragons judgement, so I never expected her to approach this album with an open mind. She didn't, and probably never will. But don't be like Oviya. Go beyond the facade that is an Imagine Dragons stigma and take the music for what it is. What you'll find is that there is substance behind this "uncultured" band; it's ok to enjoy it because it is, most certainly, good music. 
So take Oviya's review with a grain of salt. Her criticism is likely 95% based on a surface-level social disdain for Imagine Dragons, 4% on resentment for me, and 1% actual music commentary. But her commentary is just plain wrong. The problem she points out? Imagine Dragons is committed to its style in this album. Had I mentioned Lorde's committed style in my Melodrama review, I'd most certainly have fielded a barrage of personal attacks that ridiculed me for my opinion. Commitment to style is not a bad thing. In fact, artists should be committed to their style – it's a good thing. They should have an identity, and Imagine Dragons most certainly does. Each song is Imagine Dragons at its core, but each with its own distinctive identity as well. If you truly listen (with an open-mind unlike Oviya), you'll be able to appreciate the good music that lies within. Imagine Dragons may not be exciting, but don't just follow the social stigma that judges the music from a superficial perspective. It's okay to like Imagine Dragons, as much as Oviya may not admit. Once you break that barrier, you can look past the social status of the music you listen to and appreciate Evolve's music for what it is.
Leave a Comment
About the Contributors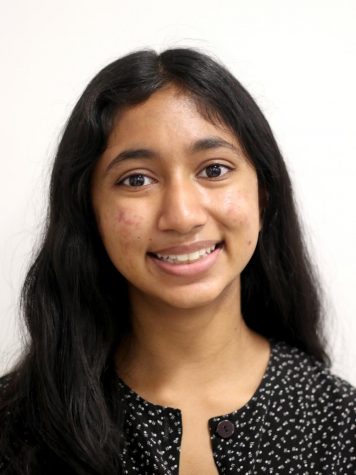 Oviya Srihari, Associate Editor
Oviya Srihari is a senior at Ladue High School. This is her second year as an editor on the Panorama. When she's not writing or designing for Pano, she...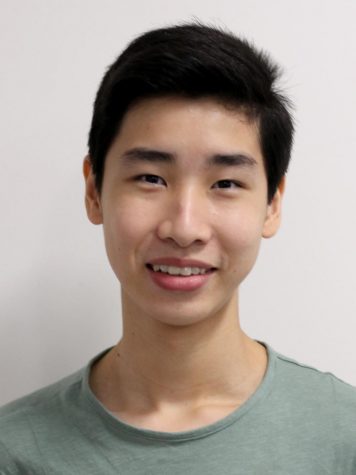 Ryan Tung, Health & Sports Editor
Ryan Tung is a senior at Ladue. He is the editor of Health & Sports and is currently in his second year as a Panorama staff member. Ryan is a debater,...