Poke Munch
What food consists of raw fish or crab, rice, seaweed, soy sauce and a plethora of vegetables? You probably thought of sushi, or some kind of salad. However, the answer in this case is Poke. Poke (poh-KAY) originates from Hawaii, and is a dish that often resembles and tastes like disassembled sushi. 
Over the summer, I tried it for the first time in California. I thought I wouldn't like it, but the spicy mayo commonly found on sushi complimented the diced raw tuna perfectly. It was then that my search for the perfect Poke place back in St. Louis commenced. Coincidentally, my friend informed me of a place in Creve Coeur called Poke Munch so I had to try it out with my family. 
Poke Munch offers dine-in, takeout, and delivery services. Their two types of main dishes are Poke bowls and sushi burritos (basically a single sushi the size of your average burrito). They offer many special bowls and even a Build Your Own where you can personalize your own Poke with any ingredients you want. They also offer sides such as Shiitake Mushroom Pot Stickers and Sweet Potato Waffles Fries. You can find their menu here.
My family and I ordered two bowls. The first was "Maui's Fury" which costs $12.50. According to Poke Munch's website, it contains "Ahi tuna, salmon, spring mix, cucumber, sweet onion, jalapeno, avocado, crispy wonton, fury sauce and pickled ginger". The portion serves around two to three people. The price may seem a little high for the amount that's given, but in my opinion it's reasonable because of all the fresh ingredients that are included. 
Usually I hate eating raw meat of any kind, but it wasn't too obvious with the tuna and salmon. Maui's Fury was very similar to a salad due to the high amounts of vegetables. My dad loved it because the jalapeno and fury sauce added a lot of spiciness but to me, the heat was too overpowering. 
The second bowl we ordered was the "Crispy Hei Hei" bowl, which consists of "sesame chicken tempura, white cabbage, cucumber, sweet onion, carrot, shiitake mushroom, crispy garlic, unagi sauce and PM sauce" for $10.50. I was looking forward to eating this bowl because the PM or Japanese Yum Yum sauce is my favorite to have on sushi. I also prefer chicken over fish and there was a reasonable amount in the bowl.
The first bite of the crispy chicken tempura coated in flavorful PM sauce along with a spoonful of different veggies is the most memorable part of my first time eating from Poke Munch. It's hard to describe the heavenly taste that each bite of the Crispy Hei Hei bowl brings so you would need to try it yourself. 
While Poke Munch may be on the pricier side for a "fast food" restaurant, it's definitely worth it because you don't find a lot of places in St. Louis like it. It's a much healthier alternative to places like Chipotle, and offers customers a taste from both Japanese and Hawaiian cuisine. If you're a sushi or salad lover, this should be on the top of your list for restaurants to visit. Even if you're not, Poke Munch is a great place to take a step out of your comfort zone for food. I would give this restaurant 5/5 stars.
Leave a Comment
About the Contributor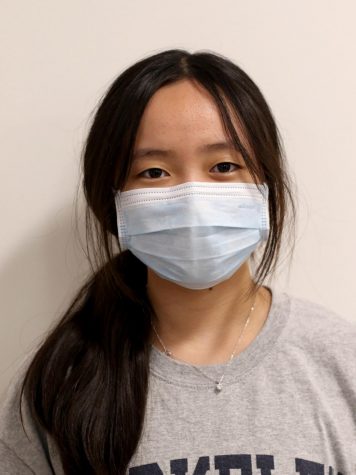 Olivia Chen, Arts and Entertainment Editor
Olivia Chen is the Arts & Entertainment editor and this is her second year on Panorama. She enjoys watching movies and listening to music.