Coma Coffee Review
Coma Coffee is the best place in St. Louis, and I will not be taking questions. When I walked in, I had never been more excited to be somewhere in my life. The typing of hundreds of keys, the screaming espresso machine and background chatter flowed together into a bustling hub of comfort and creativity. Despite the cold weather, the sunlight flooded inside of Coma Coffee and warmed any tired spirit inside.
49% of the time, aesthetically pleasing cafes usually have bad food or coffee. The other 49% have a dreadful atmosphere yet the most amazing and delectable menu. However, the last 2% is a magical unicorn of cafes: a peaceful yet productive slice of heaven paired with carefully crafted coffee and mouth-watering food. Coma Coffee can easily place itself into this seemingly unachievable 2%.
I struggled to place my order because I wanted every single thing on the menu. I eventually landed on the classic breakfast sandwich but promised myself I would make my way down the menu this year. I also stayed simple and chose my regular coffee order: an iced vanilla latte with almond milk. My friend and I sat down at the bar and watched the baristas do their thing. This addition to the layout is genius and very entertaining. My latte was quickly made and poured into a trendy glass, overflowing with beautiful amber coffee. Sometimes, you can just tell the coffee is going to be good before you even take a sip.
This is some of the best coffee I have ever tasted. Sometimes lattes can taste burnt or watered down, but the espresso was pulled perfectly and the almond milk ratio was excellent. This sounds weird, but even the ice was amazing. I will shamelessly remember this coffee for the rest of my life.
Soon after gulping down half my drink, my sandwich arrived. The ingredients were carefully chosen. A breakfast sandwich seems so plain and simple, but Coma Coffee worked to spice it up. Between two delectable pieces of Companion's Sourdough toast laid two medium-cooked fried eggs (the perfect level for a sandwich). A sharp cheddar cheese rested right on top of the eggs, melting from the heat. The bacon was flawlessly both chewy and crispy. However, the best part of the sandwich was the seasoning. The bread was smothered in delectable cinnamon sugar butter. While this is an unlikely component of a savory sandwich, it elevated the flavors tremendously. Sometimes the bacon, cheese and egg can overpower each other, but the sweetness of the butter balanced it all out. Finally, a generous sprinkling of flaky sea salt tied it all together. I am a big advocate for flaky sea salt making everything taste 10x better, and this sandwich is a perfect example. It is such a simple step to a flavorful sandwich.
I am making it my mission this year to spend as much of my life inside the warm walls of Coma Coffee. I am honestly embarrassed to say I waited so long to go. Coma Coffee was truly one of the best experiences of my life. That may be irrational and I might be exaggerating, but as soon as you walk into this place, you will understand.
Leave a Comment
About the Contributor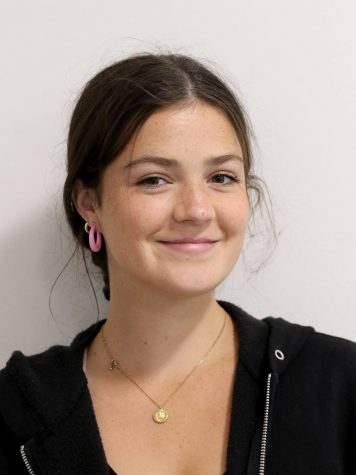 Lucy Lochmoeller, Associate Editor
Lucy Lochmoeller is a senior at Ladue. This is her third year on the Panorama staff and her first year as an associate editor. Lochmoeller plays field...