Chicken Out zests up the Loop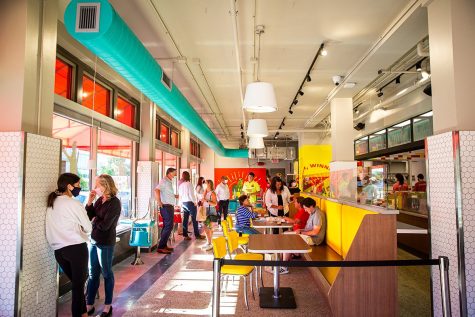 Deep inside the vibrant Delmar Loop, casual dining and American classics come together at Chicken Out, the newest project from the owners of Sugarfire and Hi-Pointe Drive-in. The restaurant's website describes it as one that serves "faster-casual, chef-driven, pressure-fried chicken". A vibrant colorful interior combined with bold graphic art on the wall gives off an energetic vibe while large windows provide natural lighting.
            The food comes quickly, taking just a little bit longer than the average fast-food restaurant. Their crinkle-cut fries, seasoned with chicken salt are crispy and immensely umami while also being quite light. The chicken salt they use is a classic Australian seasoning with powdered chicken that gives it a bold rich flavor. While the fries are deserving of much praise, the same cannot be said about the mac and cheese. The consistency is clumpy, and the taste has very strong flavors of greek yogurt and kefir. While some may enjoy this, it is certainly not for everyone.
           The signature pressure fried chicken served with house-made ranch, tangy hot sauce, and a "special" sauce is something quite unique. The breading of the chicken is quite dark, a contrast to the golden brown color of restaurants such as Popeyes or Chick-fil-a. However, it is very crunchy and has a complex flavor. The meat itself, while on the dry side, is very flavorful due to it being marinated overnight in buttermilk brine. 
            With dishes such as chicken salt seasoned fries and pressure fried chicken, Chicken Out is a restaurant that stands out amidst America's fried chicken craze. In a city that is full of fried chicken, Chicken Out is one of a kind.
Price: $$
Rating 8.5/10