Asian Kitchen
As someone who comes from a Chinese family, all my parents cook is Chinese food. Sometimes I need a break but I still enjoy other Asian cuisines. My favorite is Korean food, especially K-BBQ because of all the unlimited sides you get with each meal. Recently, I've been having a craving for a popular Korean dish called "bibimbap", which means mixed rice. There are two ways bibimbap is usually served: cold or hot. I've only tried hot Dolsot bibimbap, which traditionally comes in a scorching stone bowl with burnt rice at the bottom. 
The most common ingredients found in this dish are white rice, a variety of vegetables, kimchi (spicy fermented veggies), gochujang (chili paste), beef and a raw or fried egg on top. Asian Kitchen Korean Cuisine is an authentic Korean restaurant on Olive Boulevard that serves a variety of dishes such as soondubu, japchae and bulgogi. They do dine-ins, takeouts and deliveries.
I ordered takeout their beef bibimbap ($15.95) along with some tteokbokki or dukbokki. Tteokbokki may be considered one of Korea's most popular foods after kimchi. I figured the spicy rice cakes would pair perfectly with the less spicy bibimbap counterpart. 
The colorful array of vegetables and meat displayed on top of the white rice is what first appealed to me. The egg perfectly sizzled on top of the mushrooms, carrots and straw things is drool worthy. I love poking the yolk so it spills onto the rice. The slightly sweet beef bulgogi compliments everything in the bowl. The best way to eat bibimbap is getting a little of everything in a bite. 
Though $15 may seem expensive at first, the free side dishes make up for it. Included are soy bean sprouts, oi muchim (spicy cucumber salad, my favorite), kimchi and spicy radish. To me, the price is reasonable because all the ingredients would be hard to collect in itself. Perfecting the bibimbap is a whole other thing. 
The tteokbokki was on the more expensive side at $10.95. It was my first time trying it, though I've had rice cakes in the past. The texture of the rice cake is incredibly satisfying to eat along with the fish tofu. The gochuchang sauce may be spicy for some but it also carries a sweet taste. It's now one of my favorite Korean dishes and I highly recommend trying it out if you aren't afraid of spicy foods. 
The portion for the bibimbap was well worth the price. The tteokbokki was a bit pricey for the amount it came with but it's one of the most delicious and satisfying things I've ever eaten. Asian Kitchen provides great service for take-out and I definitely would recommend trying out Korean food in general if you haven't already. Bibimbap is the perfect dish to start without stepping too much out of your comfort zone.
Leave a Comment
About the Contributor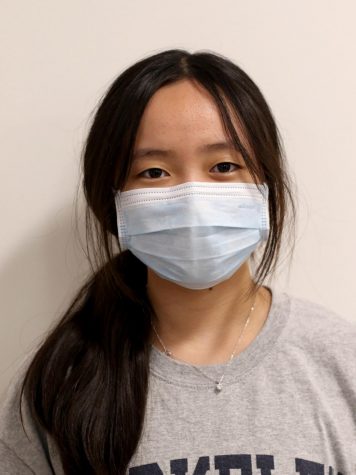 Olivia Chen, Arts and Entertainment Editor
Olivia Chen is the Arts & Entertainment editor and this is her second year on Panorama. She enjoys watching movies and listening to music.