Tradition takeover
Blue Crew hosted the first pep rally in three years outside at the stadium on Sept. 9 to celebrate fall sports and train students on traditions. 
"It was fun," senior Edward Zhang said. "It was definitely quite energetic. Only the seniors had the tradition[s] so far. Everyone under us, juniors, sophomores and [freshmen], it was their first pep rally so they weren't as loud as we'd like, but, maybe in future years, they''ll get more hyped about it."
While the seniors may have been less than impressed with the cheering from the underclassmen, the spirit of the seniors did not go unnoticed by others.
"I was shocked how loud [the seniors] were," freshman Will Minkler said. "But I'm probably gonna be like that my senior year."
With three-quarters of the student body has never attended a pep assembly before, it's not surprising that many people felt there was a lack of tradition and enthusiasm.
"I think that our school could have more spirit like be louder," freshman Jo Gyawali said. "I mean, that's just from a cheerleader's point of view. I feel like we can be more engaged and more involved in our school."
While one of the goals of the pep rally was to teach students cheers, another main goal was to show students simply how a pep rally is run. 
"It gave me a basic overview of what a pep rally is because I didn't know what that was before, so now I have an idea," junior David Morgensztern said. "[My favorite part was] definitely when the football team came out. The football team was very hype, and [so was senior Dylan Brosseau] on the microphone."
Now that all grades have seen how a pep rally is run, the
student council is expected to host a second pep rally during the week of homecoming in mid-October.
"Obviously, homecoming is a really exciting week for high school students," senior Jordan Hunt said.  "And this is the first [homecoming pep rally] that we've had in so long, so I don't think people are used to it, especially all the underclassmen because they've never been to one. I'm excited to expose them to what high school should be like and really bring everyone together. I think it's a really fun event. It makes school more fun."
After three years of not having a pep rally, students, teachers and administrators are hopeful that the return of pep rallies will bring more energy and school spirit back to Ladue. 
"I think it was nice post COVID to have a pep assembly," Assistant Principal Mike Tarpey said. "We haven't had one in quite a few years, so I think that's one thing, at the beginning of school year, that's great for any high school to kind of just bring that energy together. Not only to celebrate the fall teams, but also the other organizations that are involved in providing the energy that's at lots of those games…I think anytime you can bring the student body together in a way that's celebrating each other is a good thing for our high school."
Leave a Comment
About the Contributor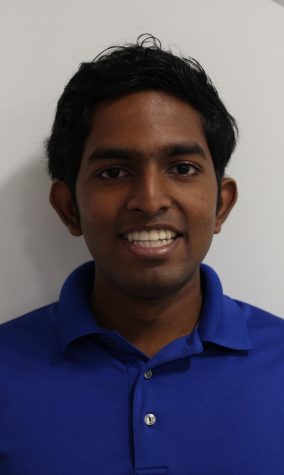 Mahith Samarathunga, Staff Writer
This is senior Mahith Samarathunga's first year on Panorama, and he is the news writer. He loves to write and design for panorama. One thing he looks forward...