DueProv prepares for auditions
Hidden behind the closed doors of the Ladue theater stage, students and staff alike are busy preparing for DueProv, an improvisational group dedicated to performing various skits and scenes relying on their own abilities to improvise. On Sept. 14, 2021, after school in the theater, the auditions will begin.
"We'll split [students] up into groups and have them play various improv games," co-captain and senior Juana Derdoy said. "There isn't a certain type of performance or student we're looking for. We want a variety of students like ones who can bounce off of other people in improv scenes, creative students, and students with some basic knowledge of theatre and acting. Anyone is welcomed!"
Co-captain and senior Katie Marks will be joining Derdoy with leading DueProv rehearsals and auditions as well as planning social events for the troupe. While theater mentor Stephen Howard will be monitoring the auditions, Marks and Derdoy will be the ones ensuring everything moves along smoothly.
"Auditions will start after the theater informational meeting on Wednesday at 3:15," Marks said. "The improv games have rules and guidelines that students must follow, but overall, we are really looking for students who can think on their feet, who are creative, who have an interest in improv, and who are interested in how to apply improv to everyday acting!"
As members of DueProv prepare for the start of their theater season, both co-captains hope that everyone auditioning can enjoy the overall experience.
"It can nerve-wracking having to try out in front of people, but don't be nervous!" Derdoy said. "Everyone is in the same boat, and we all hope you have a good time while you're here. Come prepared for auditions, and ask questions ahead of time and you will do just fine!"
Despite COVID-19 affecting the school last year, both co-captains of DueProv are ready to return back to the norm, beginning with auditions. Marks is excited for what new surprises await for the future of DueProv.
"I'm most excited to meet new people interested in theatre," Marks said. "But, in general, I'm ready to get into improv rehearsals and performances again!"
Leave a Comment
About the Contributor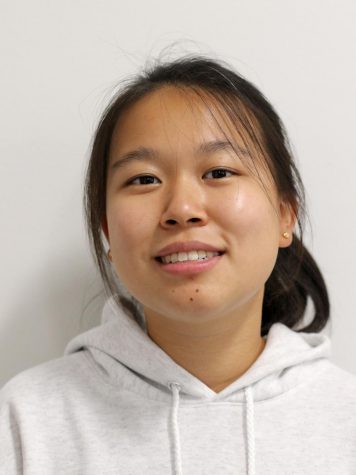 Annie Pan, Web Editor in Chief
Annie Pan is a senior at Ladue. She is the Web Editor in Chief. In her free time, she enjoys watching MasterChef, Hell's Kitchen, and any Disney or Pixar...