Viva Voce ICHSA Semifinals
From March 18 to 20, Ladue's treble acapella group, Viva Voce, went on an overnight trip to Harrison, Ohio. The purpose of this trip was to compete at the International Championship of High School A Cappella semifinal. The group's main support is through Leah Alrutz, Ladue Middle School's choir director, who is the staff sponsor and has been instrumental to its success. 
The group qualified to the semifinal stage of the competition by placing in the Top 3 at the regional quarterfinal level. Advancing required a large number of extra practice times. The group usually rehearses only on Thursday mornings, but changes were made to this schedule in order to fit in extra practice times.
"We scheduled a lot more rehearsals than usual the couple of weeks before [the competition]," Viva Voce member sophomore Micky Chyu said. "About three times a week as opposed to the usual one."
Additional work had to be put in to solve the various obstacles that arose during the weeks leading up to the semifinals. Viva Voce, one of the only treble groups present at competition, is made of 16 girls. However, a handful of members were unable to attend because the trip was scheduled for the beginning of spring break. 
"For our choreography, we had to change it a few times because we had some last-minute changes on who was coming," Viva Voce member senior Bronte King-Levine said. "We had to change the formation multiple times."
Another difference was in the songs Viva Voce sang. In order to strengthen their setlist, an additional song was added. The song, Grown by Little Mix, exudes energy and is many of the member's favorite song to perform.
" We performed Hollow by Tori Kelly, Sweet Little Daisy by Menea Kefalov and Grown by Little Mix," Chyu said."
Aside from the extended list of songs, his semifinal looked slightly different from ones of years past. One contributing factor is the ongoing pandemic, which has had far-reaching impacts.
We had our first round online which was interesting. It was different because of covid," King-Levine said. "Our first round was online. Our second round was in person but we were all masked up. So that made it very different. It made it harder to interact with other groups and make friends."
Despite not being able to make connections with other groups, Viva Voce members made lasting memories with each other. One of King-Levine's favorite parts of the competition was the group's "pre-show conversations." For Chyu, it was "spontaneously performing with everyone at Cracker Barrel." All in all, this was a semifinal competition for the books.
"I think we really pulled thru especially with the extra effort leading up to it." Chyu said. "I'm really happy with our performance."
Leave a Comment
About the Contributor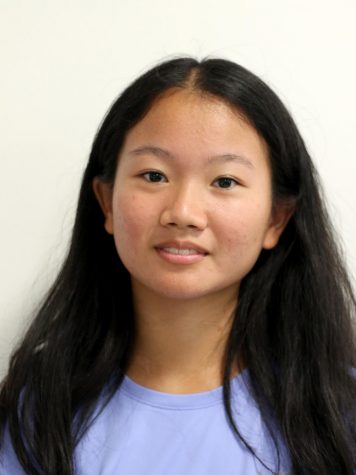 Mimi Zhou, Associate Editor
Mimi Zhou is a junior at Ladue. This is her second year on the Panorama staff and she is an associate editor. Zhou loves music, pistachio ice cream and...