On Sexualization
Your car notifies you that it's running low on gas and you pull into the nearest gas station. Yawning, you get out of the car and hear a sharp whistle. A gruff, masculine voice hollers out words that claw at your skin. But you intended to wear a comfortable outfit: a pink PJ top that hangs loose and sweatpants that hug your waist. 
You scroll on Netflix and blindly pick the newest edition of Love Island. The trailer opens up to a sunkissed, muscular body radiating vitality by slow-mo running across the beach. You can't help but wish that you had abs and your envy gnaws at you. 
In the fabric of our society, our culture has been permeated with sexual references. This has been increasingly prevalent in recent decades. We can't escape sexualization, from the oversexualized lyrics in most of the top 40 songs to the new clothing trends. These skewed perspectives cloud our conscience and leave us stranded without solutions. Thus, the consequences of this new "sexualized generation" are forced upon today's youth, negatively affecting everything from their self-esteem to their mental health to their social outlook.
Clothes
"This skirt is too short."
"This top shows too much skin."
It's the crack of dawn on a groggy Tuesday. But long before the 7:30 a.m. school bell rings, some students are wide awake contemplating what pieces of clothing they should wear and how they should style them. There's an abundance of qualities to take into consideration: comfort, style and utility. 
"It takes me a good hour," junior Micky Chyu said. "I'll scroll through Pinterest, and go through different options that I try to recreate."
But on top of the stress of finding an outfit itself, there's another looming cause to consider—how others will perceive the clothes worn. Wearing certain clothes could cost a gaze that might linger a little too long or yield a subtle compliment that makes your day. So, some students are uncomfortable wearing clothes that show more skin at school. 
"I have this feeling that everyone's eyes are on me," freshman Nevinka Amarakone said. "That's why I like being covered everywhere and I look for more casual clothing. 
Over-sexualization can manifest itself in a variety of different manners, contributing to a new era of clothing styles. This is because designers and clothing manufacturers have an increasing tendency to tailor clothes to target more oversexualized trends.
"Youth clothing has become more revealing," said junior Ava Hillebrandt. "Kids tend to look up to teens and adults. There's not as much [of] a modest expectation in society anymore."
In the past decade, the coverage of adult men and women's clothing has remained near constant. But the more dynamic alternations are in tween and teen clothing. Necklines have become increasingly low-cut, shorts' inseams have gradually crept up and shirts have slowly been replaced by crop tops. 
"People who wear clothes simply follow along with fashion designers, which track the trends," junior Maddie Rogers said. "The trends right now happen to be pretty revealing clothing. Now, it's definitely become a lot more revealing than the 60s or 70s, where you were supposed to wear long dresses and skirts."
Sports
Sports rules are rigid and even more strict when it comes to the uniform guidelines for certain sports. But issues with clothing fall harder on female athletes. There have been outcries from groups that challenge the status quo against the policies that are restricting them, like the Norwegian women's beach handball team and tennis player Serena Williams. 
"In the Olympics, athletic uniforms are a lot tighter and restricting for women, which sexualizes women a lot more," Amarakone said. "Especially in volleyball, if you hit the floor, it's going to cause skin burns. Women's [sports] clothing isn't practical."
A large part of the answer to why women have more revealing clothes in sports can be attributed to the consequences of over-sexualization. In sports such as volleyball and football, there is a stark contrast between men's and women's clothing. 
"There is a women's football league and their uniforms are so ridiculous," Rogers said. "They literally wear shorts and a swimsuit top. It's a very small top with minimum padding. [What] is interesting to me [is] how the women wore that versus [men's] football, where they're fully clothed and padded."
Rogers goes on to recount that track runner Flo Jo wore longer shorts than what runners wear now, which is "[rather] comparative to a swimsuit." Numerous concerns with athlete uniforms unearth the objectification of women buried beneath the over-sexualization. 
"I mean women haven't been seen as people but objects for years," Hillebrandt said. "But I think more people are taking notice and taking the action to change it."
The legacy of sports clothing and policies has leaned toward a more sexualized environment, which is now synonymous with our culture. We say: it's our culture for swimmers to wear Speedo swim briefs. It's our culture for track runners to wear spandex and tank tops. But, is it our culture to decide what athletes should and shouldn't be able to wear? 
Media
Celebrities are glorified through the media. Double tap to like and quickly tap on a keyboard to formulate an opinion on a person. Nowadays, the onslaught of sexuzlization pounces even before a celebrity turns 18 and comes of age. 
"People don't realize that celebrities are human," Hillebrandt said. "Mostly celebrities get sexualized because people don't care how they feel and say whatever they like about them." 
Sexual depictions glitter throughout T.V. shows and movies in hopes of drawing in audiences to inflate viewership. The problem stems from directors casting 20-or 30-year-old individuals to play underage characters. Teenagers are then expected to have more mature bodies than they usually do, making them seem more sexually inclined. Therefore, the ways in which adult bodies are sexualized apply harshly on teen bodies.
"There's an emphasis on getting ripped," Seifarth said. "In TV shows, the character has to go through training to get abs, and there's always a scene where they're shirtless. This definitely affects someone's self-esteem."
Not only do shows like "Game of Thrones," "Euphoria" or "Pretty Little Liars" exemplify sexual references, social media is constantly redefining beauty standards. Social media isn't inherently negative, but it becomes so when youth try to emulate sexual trends. 
"Our hypersexualization culture has been built into our lives so much," Rogers said. "So, it's difficult to navigate and consider how do we step away from this."
When we cross the line from appreciation to the sexualization of individuals, we are confronted with the repercussions of our actions. To unravel the threads of over-sexualization, we should take a step back to analyze our actions. This is crucial to making progress, and if we transform the overly sexual lens of bodies to lenses of love and acceptance, society may flourish in empowerment. 
"Loving our [bodies] really allows us to embrace who we are," Rogers said. "This way, more people can think they are beautiful because everyone really does look beautiful [in] their way."
Leave a Comment
About the Contributors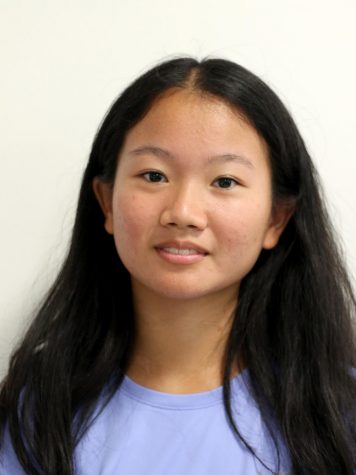 Mimi Zhou, Associate Editor
Mimi Zhou is a junior at Ladue. This is her second year on the Panorama staff and she is an associate editor. Zhou loves music, pistachio ice cream and...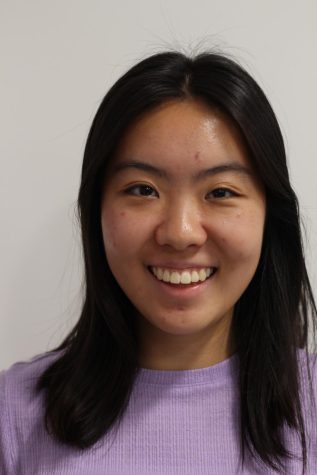 Annie Zhao, In Depth Editor
This is junior Annie Zhao's second year on the Panorama, and she is the In-Depth editor. Zhao enjoys indulging herself in Studio Ghibli movies, browsing...