Ladue Junior Commits to Purdue
As of earlier this week Ladue Horton Watkins High School junior Will Moore committed as a D1 athlete to Purdue. Moore has been playing baseball since kindergarten as well as soccer, but baseball has always been his favorite sport, in terms of skill and enjoyment. Moore plays for both the Ladue baseball team as well as multiple higher level skill teams over the summer. "I play during our high school season and I also play with multiple teams over the summer," Moore said. "If my summer teams call me up I'll fly over and go pitch for them for a game and then I'll go home. In the summer I'm playing basically every weekend." Moore is exclusively a pitcher on his summer teams, or a PO, but he believes this season he might also be a hitter for Ladue. Moore travels across the country for baseball, everywhere from Atlanta to Florida but still found what he was looking for at Purdue. "I've been talking with them since June or July," said Moore. "But I hadn't really thought about them until I went to visit their campus. When I got on campus I was just so impressed with their facilities and all they had to offer. I just really thought it was a great place for me and I couldn't be happier." 
When asked what inspired him to be a D1 athlete, Moore explained that he was cut from his fifth grade baseball team for not being good enough, but his dad encouraged him to become a better player by telling him if he, "wanted to play well, (he) would actually have to practice." 
"I started practicing and training after that," Moore said. "I was thinking about what I could do with this skill and since sixth grade baseball has been my dream and it's finally happened, so that's really great." Moore has been training to better himself as an athlete since sixth grade, focusing on primarily bettering his pitching but also taking general lessons on baseball. 
"Specific baseball training like pitching is three nights a week since around eighth grade of freshman year," said Moore. "I've also been lifting about four or five times a week as well and that has really skyrocketed my potential and just my career I think. I've been training at a really high level since seventh grade for this." Until Purdue contacted Moore's coaches about recruiting him, he was unsure about what he wanted to do academically and had yet to begin looking at colleges. Moore said that he chose Purdue because of their facilities for baseball. "Their facilities were just insane," Moore said. "One of the big things is that they have a golf course right next to the field, so I can just go and play golf whenever I want. There's just so many things that made me want to go there." 
Purdue is a D1 and big ten school and they are currently in the process of rebuilding their baseball team with a new head coach. Moore plans on majoring in business or psychology but is still undecided. The biggest challenge Moore said he would face is staying motivated because being committed is what drove him to train and work as hard as he did. "At Purdue they explained to me what the day in the life of a pitcher is going to be like and it's going to change my life," Moore said. "But I'm going to be playing baseball everyday and that's really fun to look forward to."
Leave a Comment
About the Contributor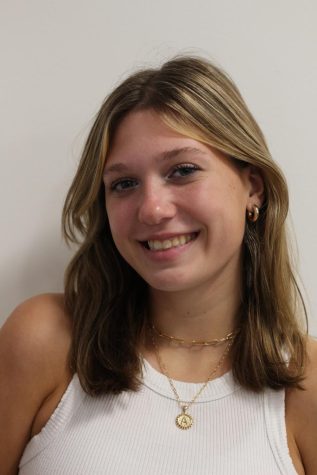 Avery Anderson, News Staff
Avery Anderson is a senior at Ladue. It's her second year on Panorama and she is the news editor. She loves writing of any kind, her friends, iced coffee,...