Wrestling team adds 3 girls to roster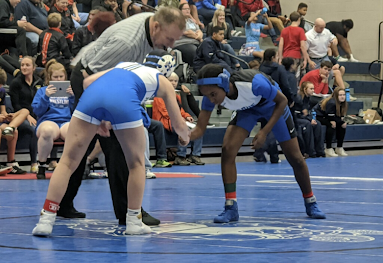 Saba Fajors, a freshman on the Girls Wrestling team, which has only two other girls, walks up to the wrestling mat and starts to prepare mentally and physically for her match.
 "I can start out a match defensive, moving around trying to get a sense of the person's weakness or good spots for takedowns and throws. As the match goes on, I become more aggressive, trying to take more shots. I perform my best when my opponent and I are on the ground. I am able to maneuver easily, and because of my judo experience, I'm able to get my opponent on their back and pin them much better on the ground," Fajors said. 
Fajors has never done wrestling before, but she has done Judo, a modern martial art, which later evolved into a combat and Olympic sport and is very similar to wrestling. Her brother, who is a junior at Ladue, is on the Boy's Wrestling team. 
"I was supposed to do swimming but then my dad said they had a girls wrestling team and asked if I wanted to try and I said 'sure!'" Fajors said.
Many people think that wrestling isn't for girls and it is considered strange for a girl to be participating in wrestling but actually it is very normal and many people, like Fajors, would like it to be a more popular girls' sport.
"People don't consider wrestling a girls sport and many people don't want to try the sport out. And it's very mental and you have to be physically and mentally ready. You also have to be smart and have good strategies to win. It's an individual sport so if you win or lose it's all based on what you do," Fajors said.
Kevin Clawson is the main wrestling coach for Ladue's boys and girls wrestling team. There are only three girls on Ladue's girls wrestling team, and he would like there to be more girls wanting to join. 
 "I would love to have a full team just like we do for the boys… I have a huge passion for coaching and I have really enjoyed watching the girls progress through the season," Clawson said. 
Clawson enjoys being able to teach the girls and help them with their wrestling. He treats them the same as the boys because the rules are the same for both teams. 
"Saba came into the sport with some knowledge from her brother and through her Judo.  She is having a great year and has a great attitude. All three of the girls on the team have been great to work with and they are having a lot of success," Clawson said. 
Saba and Clawson both want more girls to join the wrestling team. It would help them to win more tournaments and they believe it would be more fun with more teammates.
"We need a lot more girls to be able to win tournaments because we don't have enough girls to get us enough points. And when you win it's a really great feeling because you know that all of your hard work paid off, when you lose you feel very motivated to win the next time," Fajors said.