The life of a wrestling coach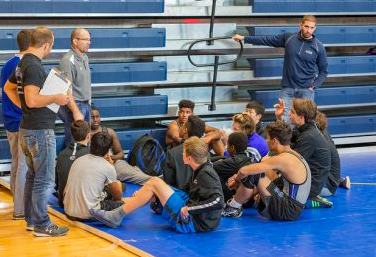 It's a Monday morning at Ladue High School and Adam Durham just finished a long day of teaching many eager students. He puts his stuff away and starts to lock up his classroom. He walks down the hallway smiling at all his past and current students as he makes his way to the wrestling gym. Even though it's just another day of practice, Durham comes in smiling and ready to coach. 
"A lot of my teaching preparation is in my off period; I have to make sure I'm ready for tomorrow. I'm also getting ready for a wrestling meet. We had a wrestling meet Friday, Saturday, Monday, Tuesday, Wednesday and this Saturday," Durham said.
Most of Durham's time is spent in the wrestling gym. Durhams been wrestling since he was 5, making it his 30th year this year. When he was in high school at Ladue he made it to state all four years, which is a really amazing feat.
"State's awesome, it's the reason you wrestle. I got sixth as a freshman and I didn't place till I got fourth as a senior," Durham said.
His love for the sport definitely didn't stop after high school. As soon as he could get a job to coach wrestling at Ladue he took it. Durham loves working with the kids each day, watching them improve. 
"I love the camaraderie of the team, like how the guys are when they're together. I like working with the kids, especially because I love wrestling. I love the sport, and I love what it teaches the kids," Durham said.
Durham even went as far as to start a girls wrestling team for Ladue this year. So far only three girls have joined the team but he believes that the team is only going to grow from there. There are two freshman and one sophomore that are wrestling this season. One of the freshman, Saba Fajors, believes Durham is one of the reasons she's becoming such a strong wrestler this season.
"If we have a problem, or we're trying to do something like we can count on him to come and help us and show us show us the right way, and explain why this is like a beneficial move and the possible scenarios where this you could use this during a match," Fajors said.
Durham tries to treat the boys and girls on the team the same and teach them the same way he would teach anyone else on the team. Even though it is hard going from teaching an all boys team to teaching girls too, he doesn't treat them any differently.
"In the end wrestling still wrestling, and we have three girls and they're all first year wrestlers and they're all doing really well," Durham said.
The girls wrestling team is open to everyone, even first time wrestlers. Durham believes it is a great way to get in shape and is an awesome team sport.
"We're always looking for more people. The more wrestlers you have the better the competition," Durham said.