Rowing floats Lili to college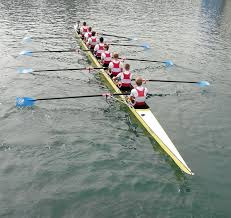 After only her fourth year of rowing, Lili Toledano is taking her immense talents to the next level- the Division One level. 
When Lili entered high school, she hadn't previously thought about rowing as a sport or hobby, let alone a pathway to college. Being involved in several other sports and activities, and having an overall active personality, she did not hesitate when she was exposed to the sport of rowing. 
"The rowing team came to my [physical education] class in the fall and I thought it was pretty cool. I was playing field hockey at the time, but when winter came, I decided to try it out," Toledano said. 
After joining the St. Louis Rowing Team, Toledano would soon become accustomed to the practices that took place six days a week, during all four seasons. Rain or shine, warm or cold, Toledano and the rest of her teammates would still put in time to work on their craft. 
"During the fall, spring and summer we will go out on the water and do race pieces or we will work on technique, and then in the winter it is dry land so we are on the rowing machines," Toledano said. 
For Toledano, all of those hours of practicing would wind up paying off. When entering her junior year of high school, she began to gain the attention of college scouts. 
"It was crazy having a bunch of different colleges be interested in me, and them trying to get me to go to their school rather than me trying to get them to let me in," Toledano said. 
Once her senior year came around, and after she had plenty of different offers from colleges to choose from, Toledano began to narrow her choices down a bit. 
"I knew I wanted to go somewhere close [to home], and I wanted a competitive D1 team, but I also wanted a school where I knew I would be happy even without rowing," Toledano said.
Through a lot of thinking, and even a few trips to different colleges, Toledano decided to further her rowing career, and education, at the University of Indiana.
"I liked Indiana because it was relatively close, and I have heard good things from other people about it, but it wasn't until I visited that I really knew I wanted to go there," Toledano said. 
While rowing has enabled Toledano to win races, earn medals, and in the end become division one athlete, it has also given her the opportunity to build lifelong connections with her teammates. 
"Lili is a huge part of our team. She brings her big energy with her every day to practice, and is always making people laugh. I am so excited for her to go to Indiana, and I know she will kill it there," teammate Cecilie Horwitz said.