Lazy baking: Flourless Chocolate Cake Recipe
I am a big believer in high chocolate consumption. I currently have 10 Reese's wrappers on my nightstand (I will throw them away at some point in time) and I usually start my mornings with something chocolate-y before I eat an actual breakfast with actual nutritional value, so trust me when I say I understand––sometimes, candy just isn't enough to satisfy a real chocolate craving. If you have a little spare time on your hands, this is the perfect, easy alternative.
Before we start, this recipe can easily be made gluten or dairy free, and no, you will not really be able to tell! Flourless chocolate cake is not exactly the kind of cake you might be thinking about, but instead non-rising and fudgy––think of it as a brownie (which is better in terms of chocolate-content and quality.) I titled this Lazy Baking for a reason: the ingredients don't require a trip to the store. You can space out, do homework or multitask otherwise while you're working. You will not need to do anything fancy when putting ingredients together. Hopeless case, just plain inattentive or veteran baker, this is something you can pull off and make as simple or complex as you would like.
Ingredients:
Dark or semi-sweet chocolate, chips or cut into pieces – 9 oz. If you want to be an overachiever, buy good stuff. If not, Costco chocolate chips taste delicious and can be swiped from the bag while baking.
Unsalted butter, cut in pieces – 1 cup. Can sub for dairy-free butter (it's available at Schnucks, Target and Walmart and tastes the exact same. Pinky promise!) If you only have salted butter, use it and skip the salt later in this recipe.
Sugar – 1 & 1/3 cups. I hate the 1/3 cup measurement. I know it's not actually inconvenient, but it feels inconvenient, and that makes me so irrationally angry. If you use 1 & 1/4 cups of sugar, I won't tell anyone, and no one will be able to tell, either.
Fine-ground almond flour – 5 tablespoons. Can substitute for literally any binding agent depending on dietary needs and what you have on hand. Regular all-purpose flour, coconut flour (I have so many questions about what this actually is?!), gluten-free blends… Knock yourself out!
Almond extract – 1/2 teaspoon. LOL. Does anyone have this in their house? Just use vanilla if you don't. If you want, substitute this for espresso or half a teaspoon of instant coffee mixed with water.
Eggs – 5 of them. I know! It's a lot of eggs! But that's how you get the brownie texture. It annoys me too. Honestly, this recipe may actually be making me mad. But it's so worth it.
Salt – a pinch. You need to add salt to every dessert you bake. My mom told me this once and she's never been wrong about anything ever. I think it's like a contrast thing, but it's also a "my mom is right" thing. Add the salt. I'll know if you don't.
Powdered sugar – enough to dust over the top!
Baking instructions:
Oven preheated to 325ºF, grease a 10-inch, round springform pan with a removable bottom.

Microwave for your butter and chocolate together for 1 minute, stir, microwave for another 30 seconds and stir. If it hasn't melted yet, microwave it in 5 second increments and stir each time. Microwaving too long is bad. I don't know why, but it is and you shouldn't do it. Once everything is melted, stir and let cool to room-ish temperature.

Add your flour of choice, sugar and extract of choice to your chocolate-butter mixture and whisk. After this, add your eggs (make sure your batter isn't hot from microwaving the chocolate and butter or your eggs may literally cook in the mixture.)

Cover and set aside outside for 30 minutes so the batter can rest and thicken. Reading this now, I realize I have quite literally never done this step. That's embarrassing. Do this step.

Pour the batter into your (greased!) pan, even it out and bake for 50-60 minutes.

It'll be done when the top cracks and feels firm, and the edges pull away from the sides of the pan just slightly. Your toothpick will not come out clean if you try that method, so just trust your gut. If you take it out and realize it's not done, you can pop it back in the oven even after cutting a slice and bake it through fully. Not that I'd know.

Set your out to cool down. Once cooled completely (actually cooled, not kind-of), remove the outer ring of your springform pan, and sift powdered sugar over the top. Can be served with berries, whipped cream, chocolate sauce, etc.
Coming from someone who wins the sweet tooth Olympics, this flourless chocolate cake recipe will do the trick when 10 Reese's fail––trust me on this one.
Leave a Comment
About the Writer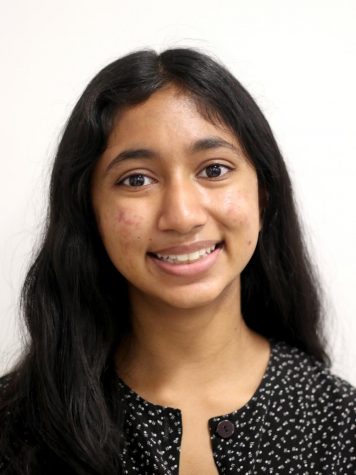 Oviya Srihari, Associate Editor
Oviya Srihari is a senior at Ladue High School. This is her second year as an editor on the Panorama. When she's not writing or designing for Pano, she...