High School Sophomore New York Times Winner
You walk into the art gallery, many photographs catch your eye, but one of the most stunning pieces is shot by sophomore Lucas Sewell, who recently was featured for his photography in the New York Times. His pieces include interesting settings, meaning and tons of contrasting emotions from shot to shot. 
Sewell believes that his love for photography began in his home with memories of discovering videography and camera work. 
"I got into photography through taking photos wherever I was and linked it to that. When I was younger, there was a smaller video camera we had and I would take videos with that around the house," Sewell said. 
Sewell rarely goes places with a set idea of what is required to happen in his shoots and allows inspiration from his setting and friendships change plans. 
"It's really go with the flow. It's like, he'll give you certain directions on like when you're shooting and stuff but most of the time it's really him looking for spots where he wants to shoot but it's super natural, never forced," Carter Ta, sophomore, said.
Sewell himself speaks about how laid back his shoots are and how if it's a personal shoot he lets the person being photographed make the shoot their own. 
"It depends on what the person wants. If they just want a senior portrait, I talk to them about what they want and how they want to show who they were; I try my best to capture that because senior portraits is a reflection of who you were as a high schooler. We try different poses, if they have another outfit they can go change into that," Sewell said. 
His teacher, Christine Warner, describes Luke, even early on, as an extremely powerful photographer. She describes his work as creative and a developing piece of art. 
"Luke started the semester with formally strong portraits and even stronger ideas. I saw his work develop in terms of composition and content throughout the semester. He is very thoughtful and is able to articulate his ideas very artistically, bringing together form and intention. For example: colors from the foreground are often mimicked in the backgrounds of his work," Warner said. 
Sewell has never taken a photography class before the year of 2019 and essentially began to teach himself in the seventh grade, developing a taste and style for his work over time. 
"Luke has a very refined style even this early on in his photographic career. His colors are often muted and subtle, relating directly to the emotional content of the piece. He focuses mainly on marginalized individuals, with the surrounding textures and environment playing a role in the interpretation, such as in "Stone Water," where an African American friend of his is set against a backdrop of jagged rocks and tumultuous skies, implying a hidden meaning beneath the strength and endurance of her expression. In his series for the New York Times, Luke brings to life a sentiment felt by many adolescent men. There is a strong contrast between the subject's melancholy expressions and the soft texture of the fabric adorning their arms which speaks of struggle and support and evokes a strong sense of identity ahead of his years," Warner said.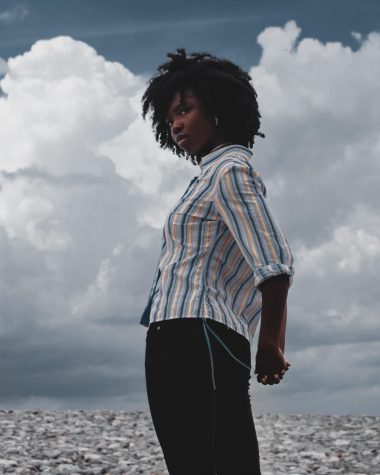 Sewell continues to wow the school; he will take on a project with a St. Louis Fashion Fund designer and her intern to photograph her work. 
"He's his own person. He's creative with what he does and he takes photography in his own way and he makes it his own, and it's special seeing someone as talented as he is. It's pretty crazy to see him at work," Ta said.