Boys Swim and Dive face off against Parkway South on Senior Night
The afternoon of Oct. 12 was Senior Night meet for Swim and Dive against Parkway South at Ladue's pool. The event began with diving warm-ups, followed by the diving competition and then a 10-minute break. The end of the break would kick off swimming, a competition of 11 distinct events (a reminder that Ladue's pool is 25 yards long and 50y is a lap, down and back). 
200y medley relay (four swimmers swim 50y of each stroke)

200y freestyle

200y individual medley (one swimmer swims all 200y, but they do 50y of each stroke)

50y freestyle, three heats

100y butterfly

100y freestyle, three heats

500y freestyle

200y freestyle relay (four swimmers each swim 50y of freestyle)

100y backstroke

100y breaststroke

400y freestyle relay (four swimmers each swim 100y of freestyle)
Beginning with the diving competition: it's Ladue's David Ciorba, Mason Holzer and Grant Cox against Parkway South's two divers, Noah Naucke and Brayden Escher. Diving is judged by your walkup, execution of dive and entry of water. There are five judges that each give a score of 1-10. Highest and lowest scores from the judges are cut out for each diver, leaving three scores 1-10. Those scores are added up and multiplied by the degree of difficulty of the dive. That all combines to their dive score. 
Each diver gets six dives to try to rack up points. At the end, all the points accumulated during the six dives are added up to form the diver's overall score. Their overall scores are then ranked to determine winners and placements. 
Parkway South had a good outing with Brayden Escher scoring sevens and eights with judges in many of his dives. Here are the final results of diving with each team receiving eight team points from the divers.
Brayden Escher 

Grant Cox 

David Ciorba 

Noah Naucke 

Mason Holzer
There are a total of 186 team points that are split among the two teams, depending on who places in the top five in each race. First place in individual events receive six points, second place receives four, third receives three, fourth receives two, and fifth receives one. Relay events score differently, with only the top three teams receiving points.
The timing system seemed to face difficulties this meet, so final times and positions may be inaccurate throughout this coverage. 
It was business as usual for Ladue's Swim and Dive. Which meant team morale was high and swimmers were ready to clash with Parkway South's smaller but strong team.
"WHAT TIME IS IT?" someone chanted. "'DUE TIME!" the team called back.
First in the swimming arc is the 200 medley relay. In the 200 medley relay, there are four swimmers, each swimming a different stroke for 50 yards. The first swimmer swims backstroke for 50, followed by a second swimmer swimming breaststroke for 50, third doing butterfly for 50 and then ending with a fourth freestyler for 50. For all relays, the eight lanes are filled with an A, B, C and D relay from each school. Ladue has all the odd lanes (1, 3, 5, 7), while South has even lanes (2, 4, 6, 8). The swimmers with the fastest records, usually the A relays, take the middle lanes. This means Ladue's fastest swimmers in each event swim in lane five, while South's fastest swims in lane four. 
PSouth's A relay took a decisive lead early in lane four and followed through with that promise up until the final stroke. Following them was Ladue's A relay and then Ladue's B, PSouth's B, Ladue's C, PSouth's C, PSouth's D and finally Ladue's D relay. Ladue's A relay was led by junior Raymond Hu on backstroke, then juniors George Jurgiel, Andrew Chen and Alex Abreu in order. Parkway South's winning relay A consisted of Carter Crook, Jeremiah Koenig, Gabe Porter and Kevin Watkins in order.
Now, the 200 freestyle, the first individual event. In lane four, the Parkway South swimmer took a slight edge over Ladue's lane five and they would end up fighting for the gold up until the last 50, where lane four took the decisive edge. Jeremiah Koenig in lane four took it home, followed by Ladue's sophomore Jax Bespalko. In lane seven, Ladue junior Massimo Seifarth set a new personal record of 2:01.7.
Time for the 200 individual medley! The stroke order for individual medley is butterfly, backstroke, breaststroke and finally freestyle divided evenly among the four swimmers. During the race, Parkway South's lanes four and six took the lead over Andrew Chen in lane five at the get go and continued to widen the gap until the final freestyle lap, earning them the victory.
Swim meets are fast-paced, non-stop events that push out the best in swimmers. Once the judge cues swimmers to get in the water, their time has started and there's no time to think or hesitate. Swimmers just have to jump in the water and swim at their best right then and there. It's especially the case with the single-lap 50 freestyle, the fastest event in the meet. 
Before the main heat of 50 freestyle are exhibition heats (heats one and two) of the 50 free. This means that these eight swimmers don't score team points, but swim anyway to improve their time and move up to a better heat. The 50 free and 100 free generally have multiple heats because they're very popular events. Not every 50 freestyle swimmer can compete in the main heat and swimmers within teams often compete for a spot in a main lane.
On heat three, the main one, Alex Abreu narrowly got second behind Parkway South's Imran Kundalic, followed by Parkway South's Gabe Porter and Ladue's Rohan Tatikonda in fourth.
After a 10-minute break, swimmers set up for the 100 butterfly. For Ladue in lane one is Baumstark, three is Jurgiel, five is Tatikonda and in seven is Naismith. But the 100 butterfly looked to be South's strength. Parkway South's lane four and six would receive first and second, respectively. The team scores right now are 41 Ladue to 53 Parkway South.
Following the 100 butterfly are three heats of the 100 freestyle. Similar to the 50 free, there are two exhibition heats followed by the heat that counts for team points. Heat three had lane four take a slight lead over the rest of the crowd, followed by lane five. Lane four, South's Kevin Watkins, extended their lead into the final stretch, followed closely by lane five, Ladue's Alex Abreu, and Massimo Seifarth in lane three finishing out the podium. 
If there was a grueling event in swimming, it's the 500 free: 10 harsh laps of freestyle. Coming out ahead early is lane four, South's Gabe Porter, who blasted ahead of Ladue's Jax Bespalko in lane five. Porter continued to dominate with Bespalko being the only one who could even keep pace with him. Porter and Bespalko ended up lapping many of their teammates, being on lap 13 while many were still on lap 11. With all landborne teammates cheering them both on, Porter and Bespalko finished a stride above the rest, catching a breath before the next race, the 200 freestyle medley. Porter came first with 4:55.57, Bespalko second with 5:04.68 and Ladue junior Brendan Raskin finished third nearly 30 seconds after Bespalko. Junior Xander Helmkampf had a personal record of 5:35.00, four seconds above his original record. The team score is Ladue 57 trailing South's 69.
In lane five for the 200 freestyle relay was Ladue's A relay: starting was senior Maddoc McGowan, followed by juniors Alex Abreu and Andrew Chen and anchoring the race was sophomore Jax Bespalko. Parkway South took an incredibly thin edge in the first 100 of the race, battling it out in the third lap where Ladue would maintain that slight gap. Although Ladue A fought hard, Parkway South's A relay took home first with 1:34.52 and a 1:35.27 from Ladue A. 
100 backstroke followed the 200 freestlye relay with Raymond Hu in lane five. Hu trailed South's Carter Crook in lane four for the entirety of the race and finished three seconds behind Crook's 56.68. In third was lane six, South's Imran Kundalic followed by lane two and then lane three. 
After that was 100 breaststroke, with South's Jeremiah Koenig showing up five seconds ahead of Ladue's Andrew Chen. Trailing them was Kade Vetter and Anthony Wang in third and fourth, respectively.
Ending the swimming arc was the 400 freestyle relay, where each swimmer does 100 yards of freestyle. In clear first is South's A relay, but contesting for second is Ladue's A and South's B. James Ramey puts Ladue's A ahead and the A relay would continue that dominance over South's B until the end. South's A takes a 3:33.10 with Ladue A's 3:48.67 earning them second. Ladue's B finished out the podium with a 3:53.30 and South's B lagged into a 4:08.25, placing fourth.
Final score: Ladue 83 – Parkway South 103. But the action wasn't over.
For seniors, it's one final chant. "WHAT TIME IS IT?" senior James Ramey yelled. "'DUE TIME!" the team responded in unison.
The Parkway South team packed up and headed home to signal that senior night was underway.
First up, celebrations. Underclassmen and juniors picked from a stack of paddleboards and huddled into a mass, while the seniors gathered on the other side of the pool. The seniors, each with their Ladue Swim and Dive jackets on, stood across from Coach Hab Gentry and Coach Rob Pegler, where Coach Gentry addressed the seniors in an eloquent speech.
The eight seniors were, in no particular order: James Ramey, Anthony Wang, Cade Vetter, Grant Cox, Rohan Tatikonda, Ben King, Maddoc McGowan and Henry Naismith. 
After receiving a few words from Coach Pegler, each senior walked the senior path of pain. This was where the paddleboards came in. The seniors would walk in a line parallel to the pool where each non-senior awaited them, ready to slap their backs as hard as possible with the paddleboards. A crippling, yet loving tradition. And when an extra loud slap was heard, the team would let out a mixture of laughter and "oohs." 
If paddleboard slaps weren't enough, juniors drenched their eldest members with a splash of ice water with the warmest of intents. It's as if all the hours of practice were just to achieve this hilarious senior painfest.
"Previous years were a lot more work oriented," junior Raymond Hu said. "But this year's [seniors] were almost just as work oriented, but still valued fun a lot more in practices."
This change in leadership philosophy extended past practice and competition. According to Hu, these aquatic seniors showed their support even when it didn't necessarily apply to swim or dive.
"One time Xander [Helmkampf] locked his keys inside his car and so Rohan [Tatikonda] stayed with him the entire way through and helped him," Hu said.
The seniors also made sure to make the best out of each second they spent together with their team, propping up a new wave of swimmers and divers to follow where they left off.
"The seniors were really nice this year. They're the best people to talk to when you're lonely," freshman Matteo Seifarth said. "I admire how they're open to everyone and every single person they treat equally."
Although it was a night of celebration, the season has yet to end. There are a few more away meets to attend, but the seniors will never swim or dive in another official heat at Ladue's pool. Every lap completed and every flip done was left out on the pool to inspire Ladue swim and dive for years to come.
"It's very nice to see a senior get a new best or a personal record. Especially for a dive or something because it makes me feel like I helped them and they helped themselves accomplish what they wanted to accomplish," Seifarth said. "One time Grant Cox got a new best on a dive and the whole team applauded and everything so I felt like I was really part of the team and he really felt happy."
Swimming and diving are not only sports of speed and agility, but also discipline, consistency and wisdom. Much of this was echoed by the seniors in their advice to their younger peers at the senior night ceremony. After the ceremony came photos and cake to mark the end of the meet, filled with inside jokes and the team crowding around the cake asking for seconds.
"I'm going to miss not having to eat," senior Rohan Tatikonda said. "But I'm not going to miss Jimmy Johns."
Even though it felt like a goodbye, the work has yet to be finished. Perhaps the seniors can finally send off without any worries, but juniors stepping into their roles have many things to consider. Senior Anthony Wang thinks the process is pretty straightforward.
"Swim fast and set a good example," Wang said. "[Swimmers] should not skip practice intentionally and then they'll get better."
After a bit of cake, the pool became occupied with a small class of young swimmers. The locker room closed and the coaches headed home. Bon voyage, seniors. 
"It's been an honor to watch them grow into capable young men," Coach Gentry said. "They look like giants, not in stature, but in capability."
Leave a Comment
About the Contributor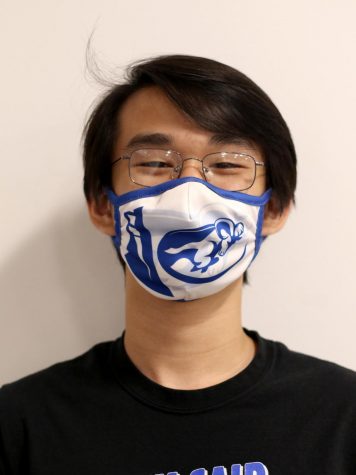 Allen You, Editor in Chief
Allen You is a senior at Ladue and the co-editor-in-chief for the Panorama. This is his second year on the staff. His guilty pleasure is listening to too...