For a girl who has not finished a book in three months and has $108.97 in library fines, Joanne Sung sure has a lot to say about books
Fact Number One: The other day, I was at the library, and even though I was at the library, instead of looking on the shelves, I downloaded the St. Louis County Library app. I found this slightly ironic, because I was voluntarily turning away from one of the last sources offering in-person media consumption, in order to access its services digitally. But irony had nothing on my phone addiction, so I persisted. And as I signed into my account, I realized that I had $108.97 racked up in library fees. I did not know this was possible. Turns out, it is possible.
With the help of my newly downloaded app, I found lots of books I was excited to start. However, apparently, libraries do not like when you have $108.97 in unpaid fees. A computer at the self-checkout told me my fees were "outstanding," so I must instead receive assistance from a librarian. As nice of a compliment as that was to my fees, this was not very nice to me. Seeing as I wasn't too eager to explain to an otherwise dead-silent library why I couldn't demonstrate understanding of one of two rules at the library: returning books, I left. At least I didn't bring food.
Fact Number Two: I have not been able to finish a single book since Aug. 28, 2021. (Do not tell my english teacher this, because it wouldn't be untrue that there have been assigned readings since August.) It's up to question whether this is due to my laziness and screen addiction, or due to my growing fear of completion — because what truly follows completion; the ending of the known signals a beginning of the unknown and once my time in high school ends, and once my time in St. Louis ends, and once my time living with my family ends,
what am I to do with all of my time. But not all questions are meant to be answered, and I'll categorize this as such.
So, you might be wondering, (Query Number One) how is Joanne Sung going to recommend books if she hasn't finished one in months (refer to Fact Number Two)? Is she going to recommend children's books? And to that, I offer my brilliant solution: I will recommend books I started, because I've started plenty of books. This serves twofold — I address your Query Number One, and I don't have to take responsibility for any recommendations you dislike. If I had finished the work, surely I would have known better than to recommend it!
And so hence we begin our journey through (my) life's pressing ruminations, unsubtly veiled as a list of books I like (but for some reason, still can't finish).
"
You could push the earth inch by inch through the cosmos until it collided heart-first with the sun."
— Carmen Maria Machado, In the Dream House
In the Dream House by Carmen Maria Machado
There's such an alluring charm to Machado's writing where every single word is intentional, heavy and perfectly chosen. Ensuing pros: she created genuinely one of the most hauntingly beautiful and witty portrayals of love — and I'm guessing later will come the disintegration of that love — that seamlessly weaves in modern existentialist philosophies (Machado could come up with 'existence precedes essence' during a Sunday brunch with her friends but darling Jean-Paul couldn't dare dream of creating a such house built up by words). Cons: you will need to read with a dictionary at your side because her perfect diction comes with a side of a massive lexicon.
It's a memoir, but it's not a memoir, and it's essays, but it's really a memoir. And as she offers a guided tour of the different parts to her 'Dream House,' she unveils what her relationship was, and is, with the person she directly addresses as "you" is, telling her story of living and her story of surviving, a story of being woman, a story of loving women.
Of Woman Born: Motherhood as Experience and Institution by Adrienne Rich
One of my favorite categories of literature is when poets write prose. I'm too impatient to read poetry, but I like when words are pretty. Other such pieces: On Earth We're Briefly Gorgeous by Ocean Vuong, The Bell Jar by Sylvia Plath. Of Woman Born explores the history of motherhood as well as the socio-political contexts surrounding its perception, but in addition to the research and theory that is normally in feminist lit, Rich includes her own conflicts, diary entries and poems that gives a much more personal feel to the book, dancing the delicate balance of almost being a memoir. Actually I lied, it's not really a memoir at all but I thought that phrasing was kind of pretty.
Ducks, Newburyport by Lucy Ellman
The first thing you'll notice about this book is that it is a literal brick, I could replace one of the bricks in my house with this novel and no one would be of the wiser.
If that hasn't already repelled you, then maybe you'll open the book, and make your second observation: there are no paragraphs, so it looks like one large chunk of text. But then look closer for the third observation and you'll see that there are no periods, just one very extremely 1020 page long run-on sentence. And if you're still here and you decide to read some of the words, you'll realize that the entire story is told in phrases that begin with "the fact that" (observation number four). In other words, hypothesis: this book will drive you insane.
On the cover, there's a duck pointing its head underwater, towards a statement from the Booker Prize Jury citation: "Unstoppable … like nothing you've ever read before."
But I excel and surprise and exceed all expectation, and I have been able to stop reading the book. At page 18. And I don't think I've read a single word from this in four months. But it's an interesting concept to say the least, can be funny at times and it's making commentary on the monotony of this mother's life. I think.
If you just want a glimpse but wouldn't ever read the actual book, I'll give you some lines that I liked (in the 18 pages I read thus far):
"the fact that Ben says there are at least sixty billion earthlike planets, just in the Milky Way alone, and I wonder if motherhood exists on all of them"
"the fact that he says drugs work on a molecular level that can be assessed using logarithms and Schild curves, but I just pop 'em and leave the rest to chance"
The Collected Poems of Audre Lorde by Audre Lorde
The way fate would have it, the only copy of this book available at local libraries resides at the library system that I am unable to check out books from. Instead of finding the three books I need to return there, and then checking this book out, however, I've been reading a few poems out of this anthology every time I visit Barnes & Nobles. This means my progress for this is insanely and unbelievably slow. Earlier I said I'm too impatient to invest myself in poetry, but for the works of Audre Lorde, that never applies. My insanely slow pace is just fine, because her poems are perfection.
The Miraculous Journey of Edward Tulane by Kate DiCamellio
You wondered earlier, whether I would be recommending children's books. By which I mean, you probably didn't care less, but I wrote in that you wondered as a means to propel this article forwards. But by not labelling that as a query, I surreptitious skipped answering it, and instead only addressed the query that was labelled. I think we do this a lot. I think I do this a lot.
"
Once, there was a rabbit who loved a little girl and watched her die.
The rabbit danced on the streets of Memphis. His head was broken open in a diner and was put together again …
And the rabbit swore that he would not make the mistake of loving again."
— Kate Dicamillo, The Miraculous Jounrey of Edward Tulane
Sometimes I get scared that I'm getting too good at evading the questions that matter, and then suddenly I'll be in my forties still without answers because I pretended to offer answers in the forms of choosing a college major, or choosing a career path, and thus avoided answering what it is that could give my life meaning. And then I'll be fifty, sixty, eighty, and I'll be worrying about not having much life left for me, when I should be worrying instead about there not being any meaning to all of the life I've had, ever, even since when I was seventeen.
But — not all questions, are meant to be answered. I'll answer your question about children's books though. I will be recommending a kid's book; this kid's book, specifically.
Huis Clos (No Exit) by Jean-Paul Sartre
We've already established that Jean-Paul Sartre could never write a memoir like Machado did. So if he can't do that, what can he do? Well, he can write Huis Clos. The phrase "hell is other people," came from this play, when the characters realize that hell doesn't have barbaric torture devices, but it does have other people — it is other people. The only way for these damned individuals in their barren quarters to perceive themselves is through the reactions they get from the fellow residents of hell, which apparently drives them to insanity. Lucy Ellmann's Booker Prize winning novel probably could've also worked, but Sartre prefers the philosophical, I guess.
"
CRADEAU: All right. So you have to live with your eyes open?
BELL BOY: Live?"
— Jean-Paul Sartre,
Huis Clos (No Exit)
Except you'll notice I used Huis Clos not No Exit. This is because I was at Half Priced Books and found a copy of this book in the original french and used the same brain can't even remember the hospitality customs of the US, much less those of Senegal, during cultural comparisons in AP French, and decided that I would be able to read philosophy in french. It is not going super well, and after every read I get a headache. But it can be kind of funny in a weird way, and oddly comforting even.
Flower Confidential by Amy Stewart
This is one of the most random books I own. Municipal libraries often give away books that are damaged or aren't popular anymore, and so when around five months ago, I was at the Richmond Height's Memorial Library's free books cart and saw this, I thought the cover looked pretty and the title sounded dramatic and cool. Only later was it that I realized that it is a book on the history and practices of chemically and genetically modifying flowers.
But I decided that this will actually help make me wonderfully esoteric. I'm only like 15 pages in, but once I've completed and comprehended this text, I'll have the most niche facts about laboratory-made flowers to use in small talk.
I do wonder, though, that if the book I picked up was some boring law book, if my facts would instead be about the evolution of jury duty or something, and then what if I liked the book enough that I decided my future career would be in law and then I became a boring depressed lawyer. Did you know that the french word for "lawyer" is the same as the french word for "avocado"? So what if I went abroad and attempted to introduce myself, but they thought I was asking for avocados and kept giving me avocados. I don't even like avocados. Although as much as I dislike avocados I do think I can think of a few more significant reasons holding me back from going into law.
The book I got was not about law, though, and the french word for "flower engineer" is not the same as the french word for "avocado".
I have a point I'm making with this, and that's that I think everything about how I make choices is just out of inertia. Like I'm some stupid toddler in a car ride with a seat belt, lurching around at every start and stop, I just got the book because it was there, and I'm still in extracurriculars I dislike not even because I need them on a resume or something but because it would take too much energy to leave and I'm still at the job I don't really like because I might as well and I didn't get my license until I was 17 and then two months because it seemed like a nuisance to get up and learn how to drive and I have an avocado plant because I had an avocado seed even though I don't even like avocados and now my plant is dying and I don't like avocados but I don't want my plant to die.
I'm kind of scared, then, that I'll be miserable but thanks to Newton's stupid first law of motion, I'll just keep going in the same direction because I don't have enough left in me to exert the unbalanced force to change from stop to start from start to stop from here to there, from, to happy.
But I'm just seventeen, and Taylor Swift said that at seventeen we should be radiant, and so for now, maybe I'll set aside all the impending doom and since these books are already started, I'll just let inertia drag me along on a journey headed towards last pages.
Leave a Comment
About the Contributor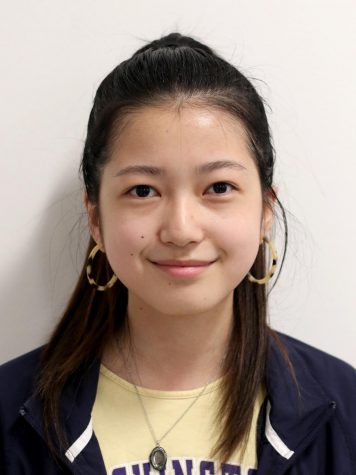 Joanne Sung, In Depth Editor
Joanne Sung is a senior at Ladue, but still feels like a sophomore, except for her back pain — that feels more senior citizen. She is the in-depth editor,...