Masks Recommended, not Required, After Board Meeting
The Ladue School Board met on Tuesday night and decided to repeal the mask mandate beginning for students on Wednesday Feb. 23.
While students are no longer required to wear masks, precautionary measures — like the four lunch system — are still in place. These policies are a part of a larger plan, and the school plans to return to the normal lunch system when the St. Louis County positivity rate falls below 12%. Some students are looking forward to coming to school without masks, while others worry that it will cause an increase in case numbers.
"I think it's fine that it's optional because cases are going down," senior Garison Siegel said. "Everyone has had the opportunity to get the vaccine and the booster. I think it's okay as long as people are making the best choices for themselves."
The mask mandate will go back in place if the school positivity rate reaches 1.5%, or 22 cases. Currently, there are two cases, which is well below that mark. However, the countywide positivity rate is 13.5% as of Feb. 16, which is alarming for teachers like Jim Golwasser.
"I believe in following the guidelines put out by St. Louis County," Goldwasser said. "I look at the St. Louis County website, and we're in the red area. If we had less COVID-19 in the air and a lower positivity, I'd be fine with it, but I don't think we're there yet."
Although there are no schoolwide mandates, clubs like robotics have decided to keep a mask mandate in place in order to decrease the risk for quarantine. With these new guidelines, the responsibility is placed largely in the hands of students to make decisions they feel are best for themselves.
"In robotics, we are still going to require masks so we don't have to quarantine if someone gets sick," Siegel said. "It's pretty unanimous, no one is really against that. The room is safe too, the air circulates well. We want to stay safe because if key players get taken out, it would be a detriment to our season."
COVID-19 policies will continue to change and adapt to the current state of the virus in the Ladue community. As students are eased into normalcy, Goldwasser hopes that precautions are not entirely thrown out of the window.
"This is a choice done by students, whether they wear a mask or not," Goldwasser said. "I will wear my KN95 mask until I see the rates drop enough for me to be comfortable."
Leave a Comment
About the Contributor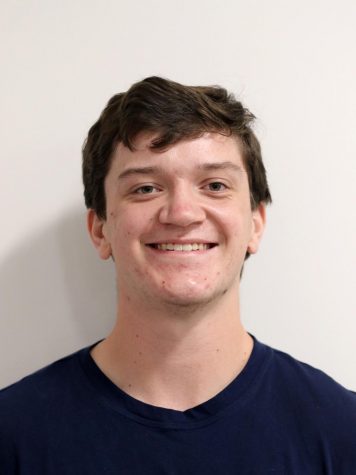 Domenic Fenoglio, Panorama Editor in Chief
Domenic Fenoglio is a senior at Ladue. This is his fourth year on Pano, previously as a ninth-block writer, Sports Editor and Associate Editor. He is excited...