Love letter to Trader Joe's Rolled Corn Tortilla chips: Chili & Lime flavored
As I inched my way through Hanya Yanagihara's insanely depressing, though beautifully written, sophomore novel, A Little Life, my number one companion was the Trader Joe's Rolled Corn Tortilla Chips: Chili & Lime flavored(it's a mouthful, so I'll shorten it to the 'Trader Joe's version' of Takis). Its substantial, somewhat subtle, spiciness and lingering flavor was the perfect amalgamation to the tears that the book flooded my eyes with. The predecessor to these chips is the name-brand Taki Fuego chips, which I will refer to as the 'name-brand' and also condense to 'Takis,' as that is what the rest of the world calls them. Though between these two versions, the only one I've tried is the—as some like to put it, gentrified—version produced by Trader Joe's. I would probably appreciate the name-brand Taki's just as well, but through this, I'll get input from two people around the school who have tried only the name-brand Takis and two who have tried both the name-brand and the Trader Joe's version. From their thoughts of the chips, I'll draw my own conclusions. 
My first experience with the Trader Joe's version of Takis was at a watch party of the latest summer Olympics(hosted by Tokyo), where we watched the Olympics for a brief time, but more so ate mouth-watering Japanese food prepared for us by our friend's mom. My one friend from the city brought a bag of Trader Joe's version of Taki's to the party. I was new to the realm of spice and didn't have much of a tolerance built. When I first tried them, they were of course too spicy for my taste. But for some reason—and I actually do this with a fair amount of things ranging from tea to cheerios—I was thinking 'these are super cool and I want to be seen like I'm the type of person to eat these.' So one day I decided, after I had tried them for the first time at the party, to take myself over to Trader Joe's to get a bag of my own. After the first bag, I wasn't entirely hooked, so I let my family help me finish the bag. Then later, I can't recall when; I got addicted to them. I don't know what they put in them to make it that way, but it makes me wonder if it's worse, better or the same for the name-brand Takis. I'll take a stab here for the reader's sake of time, energy, and attention and say it's approximately the same. 
Takis are well known throughout our whole school, I'm assuming. I've seen more than five people—I'm lying, it was just one person during lunch one day—walking around with a sturdy hand holding up a purple plastic bag that looked as if it held less than the regular 9.9 oz of name-brand Taki's. And occasionally I'd catch a glimpse to see their grip on the bag which suggested their dust-covered fingers' readiness to deck anyone plotting to steal a chip from them, understandably so. But this is also largely a part of the 'hot Cheeto girl' stereotype, which I shall not touch too much on this, uh…, Wednesday. The 'hot Cheeto girl' stereotype stems from where she gets her hot Cheetos or Takis in this scenario. Many places that are easily accessible, like Walmart or Target, sell name brand Takis, while places that are less accessible, like Trader Joe's, sell their version of it that is marketed to the people they want to market to, most likely anyone but a 'hot Cheeto girl'. To sum up, this is likely why many of us don't see a Trader Joe's version of Taki's fandom because Walmart or Target is generally more accessible than Trader Joe's. I could be reaching, but maybe I'm fit to speak on it since I did pass Marketing I with flying colors(A for Awesome)!
Next, please step into the anecdotes with me. Many people across the board feel genuinely neutral about Takis including junior Ruth Workineh. "I don't like spicy food or chips," Workineh said. "But I like how [Takis are] rolled up."
One name-brand Takis enjoyer, junior EJ Heitzenroeder, states that he "like[s] Takis" for "the one chip at the bottom that's covered in all the dust." While one can get this from both brands, Heitzenroeder has only tried the name-brand Taki's but would consider trying the Trader Joe's version if given the chance. When asked about the dust that winds up on his fingers during and after a nibble on the chips, he states his dislike for it, along with many other people. 
Senior Sasha Atterberry, along with Heitzenroeder, dislikes the red dust that comes with the tasty snack. I too am a massive hater of the red residue that the snack plagues my fingers with. Both Atterberry and I try our best to avoid it at all costs, getting creative with our intake of the chip. My own ritual is to take a plastic bag and put it over my hand in place of a glove. I would never dare use a literal glove due to the cramped sweatiness that comes with it. On the other hand, Atterberry's ritual is to pick up her chopsticks and use those as the buffer between her and her chips. 
On another end, junior Lihi Hall, who has tried both versions, dives into the differences in taste and health factors that go into the two. "Trader Joe's [version of] Takis [compared to the name-brand] have more flavor and a better crunch," Hall said. "They [also] have more of that corny flavor and they're healthier." Atterberry, who also has tried both versions, agrees with Hall on this commentary by adding that "they're less artificial, more natural [and] they have an actual flavor that comes out of nature instead of some chemicals [like in the name-brand Takis]."
They are healthier, but everything in moderation is not amazing in the long run. In the short run though, health-wise, Trader Joe's brand fits down the healthy path. The largest difference between the two comes from their packaging design and nutrition labels. Personally, I prefer the design by Trader Joe's. The name-brand Taki's sodium count comes in at a whopping 410 mg per serving size(1 oz, about 12 chips), while Trader Joe's version comes in at 260 mg per serving size(1 oz, about 15 chips). The serving size suggests the number of chips in each bag and once again, Trader Joe's reigns supreme in another contest between the two. And if you're looking to up your potassium level, I'd recommend the Trader Joe's version which stands high at 80mg versus the 1mg the name-brand provides. Along with possible health benefits, financially, Trader Joe's wins again. The name-brand Taki bag typically costs $4.29 for the 9.9 oz bag while the Trader Joe's version in a similar size(9 oz) costs $2.49. So with this, the gentrification may not be in the price, but in the fact that Trader Joe's may want to advertise a healthier version of the "unhealthy" brand-name which is generally consumed by people of lower-class families because of its accessibility. 
Leave a Comment
About the Contributor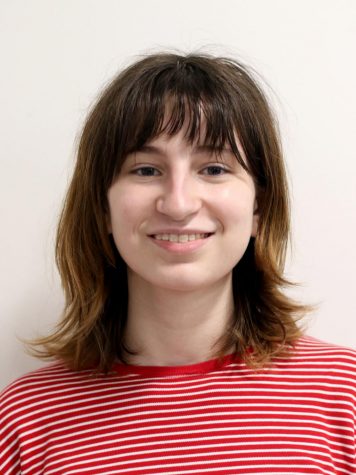 Sydney Collinger, Photography Editor
This is senior Sydney Collinger's second year on Panorama, and she is the photo editor. You'll often find Sydney reading, shooting photos for Panorama...