Live Game Review: Cardinals Season Comes to Tough End in Wild Card Game
6:23 P.M. Oct. 6: Currently a little less than an hour away from game time, my mind can't help but be drawn to ten years ago, and the greatest World Series of all time. The Cardinals faced The Texas Rangers in a contest few thought the redbirds would win, and, well, we all know how that went. David Freese became a hometown hero and the Cinderella team brought home the title. Now, I know that this year's team does not have the same pitching strengths, and I may have to eat my words in just a few hours, but I see a lot of similarities between this year's Cardinals team and the run of 2011. 
Ending the season with the longest win streak in franchise history, this team has shown the ability to get hot at the right time and compete with some of the best teams in the league. Players like Paul Goldshmidt, Tyler O'Neill and Harrison Bader have led the newly ignited offense with remarkable runs. 
But if this team is going to find success in October, we will need to rely on two players who were on that 2011 team. Yadier Molina and Adam Wainwright, both in the twilight of Hall of Fame Careers, will be integral in the success of the team tonight and throughout this postseason. My prediction for tonight's game: 3-1 Cardinals with seven solid innings out of Wainwright and a run-batted-in for Molina. 
7:08 P.M.: Minutes away from first pitch. Max Scherzer, a Parkway Central alumnus, is pitching for the Dodgers tonight. He is currently on a second half run reminiscent of Jack Flaherty two years ago. But, the Cardinals have a history of beating up on Dodger's aces in the playoffs. Just look at Clayton Kershaw's postseason earned run average against us. Again, I am very confident.
7:33 P.M.: First inning in the books, Cardinals up 1-0. Edman was able to manufacture a run after a broken bat single, stolen base, sacrifice fly and wild pitch. Wainwright looked very sharp in the bottom half of the inning, striking out a batter and catching a come backer that could have caused trouble with a two out hit. At this point, the Cardinals look to be the more comfortable team. We've been here before.
8:27 P.M.: After the end of a tumultuous third inning, the Cardinals are still up 1-0. Was I concerned after Wainwright walked two batters and got to a full count with the bases loaded on the Dodger's hottest batter? Yes, but obviously Wainwright wasn't. That guy is a dude. Nay, The Dude. 
9:40 P.M.: It is currently the bottom of the sixth inning, and the game is tied 1-1. After a homerun given up to Justin Turner, Wainwright seemed to be cruising through the Dodgers lineup, piling up 5 strikeouts along the way. However, manager Mike Shildt just made the decision to take him out of the game, opting to go with the bullpen. I can't say I agree with this decision, but In Shildt We Trust.
9:54 P.M.: We got through the sixth after a little bit of a sweat. This game is going to come down to two things: bullpens and clutch hitting. While Los Angeles may have the advantage with their bullpen, I have full faith in the clutch hitting of the Cardinals. I expect big hits from players like Molina or Goldschmidt.
10:37 P.M.: Heading into the bottom of the eighth, this game is starting to look more and more like a classic. Everything is building towards a big moment, it just depends on what team is lucky enough to be on the right end of it. My confidence is still high, but I can't be upset with any outcome of this game.
11:06 P.M.: Tyler O'Neill was thissss close to becoming a hero. But, the true player of the game, if the Cardinals win, will be Tommy Edman. With three hits and two stolen bases, he is proving he can handle the big stage. Now it will come down to the bullpen holding down the fort. 
11:09 P.M.: Well, I'm confused. Why take out Gallegos, in my opinion our most reliable reliever, and put in T.J. McFarland? Seriously, Schildt, this is a bold move. It better pay off.
11:20 P.M.: This is it. Two outs, bottom of the ninth, winning run at first. Alex Reyes, our closer for the entire season — until we pulled him for not doing well — is coming in to pitch. I would be lying if I said I wasn't nervous. But we'll see.
11:25 P.M.: Welp. Good game. The Cardinals had a run, they really did. Rough way to end it, but we couldn't have fought any harder. I hate to say this story may not see the light of day, but this really was a great game to watch.
9:27 A.M Oct. 7: Ok, after sleeping on this loss, I feel ready to reflect on the season as a whole. While this season didn't turn out as I hoped, it had plenty of positives. The 17 game win streak, the longest in franchise history, was a major highlight. On top of that, the future is bright. Our outfield is young, and our infield has some stars. On to next year.
Leave a Comment
About the Contributor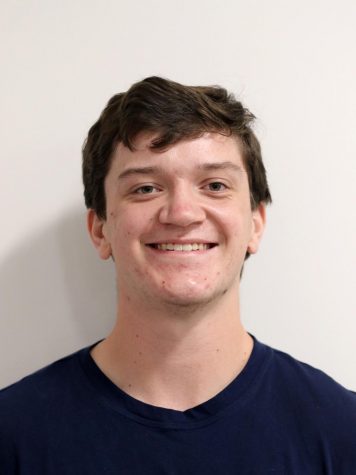 Domenic Fenoglio, Panorama Editor in Chief
Domenic Fenoglio is a senior at Ladue. This is his fourth year on Pano, previously as a ninth-block writer, Sports Editor and Associate Editor. He is excited...