Is it too early to celebrate the holidays?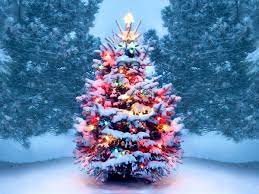 It's a time of bright colors, reindeers, festive moods, and most importantly, incredible music. I mean, who doesn't love the holidays? If you're a normal human being, December will be one of the most exciting times of the year. Sure, Thanksgiving is in less than a month, and for some people, that's a big deal in itself. However, I don't see a big issue in listening to christmas music, starting setting up your christmas tree, or even looking for your favorite stocking to hang up next to the fireplace. Personally, I think it's already that time of year and has been for the last few weeks. 
Of everyone that I've asked, the general consensus has been that after Thanksgiving, it is culturally and socially acceptable to start celebrating Christmas and other holidays. However, I believe that this is 100 percent false and simply a product of our own bias and people's tendency to ruin fun for others. 
Who's to say that there needs to be a limit to someone's excitement. Believe it or not, there are tons of people that plan entire trips, buy early presents, and prepare for celebrations and get-togethers even before halloween. To think that I, and others, have to cram all our excitement and fun into a measly month is disappointing and a crime to the Holidays. 
Sure, Thanksgiving and Halloween are fun in their own right, but they don't hold nearly the same weight that Christmas and other holidays do. Gosh, I've seen people stare at "days until Christmas" countdowns in January. Not to mention, it is one of the only holidays that is universally celebrated around the world. Every country has its own independence day, their own version of new years, and perhaps some form of Thanksgiving, but Christmas is a day where a large portion of the world stops whatever is going on in their life and celebrates for the sake of it. 
Let me be clear. This is not a cry to start preparing right now… It's a cry to stop criticizing people for simply listening to "Last Christmas" by John Legend in the beginning of November. I understand that some people may not have the mental capacity to get excited for multiple holidays at a time, but for those of us that can, it should be considered acceptable, and perhaps encouraged, to set up our Christmas tree earlier this year.
Should we start celebrating Christmas before or after Thanksgiving?
Sorry, there was an error loading this poll.
Leave a Comment