Coaches vs. Cancer set for December 20, 2019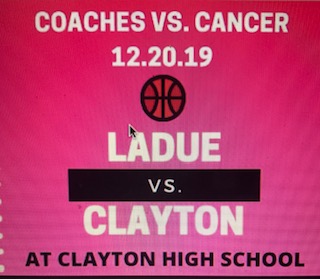 The annual Coaches vs. Cancer game between Ladue High School and Clayton High School is set for Friday, Dec. 20, at Clayton High School.
Coaches vs. Cancer is an annual fundraiser across the United States that looks to provide funding for research of the American Cancer Society. Many schools have their way of donating, including Ladue High School, who is selling pink shirts courtesy of Student Council for just $15. Much of the profits earned from ticket sales will also go to the American Cancer Society.
"I believe it is crucial to holding these kinds of events because it's a fun way to help out for a good cause. When we normally think about the American Cancer Society, I feel like there's a vibe where you can't approach it unless you're into it because it's more serious," senior Daniel Jung, the Student Body President, said. "Events like this, a basketball game, help us because it's a way to add fun and a more approachable way to give to these programs."
Since many students around the country can participate, they can make a tremendous impact on their community.
"It really is an unbelievable event," sophomore Class President Arman Mubeen said. "I think that supporting the American Cancer Society means a lot. You have the ability to go help a lot of people help and research, and for me, being a part of it makes me feel like a better person."
Due to the limitless amount of ways that students can donate to the American Cancer Society, new research can be conducted, and treatment can improve for the millions of cancer patients around the world. 
"I think it means a lot to people who have had or currently have cancer," Mubeen said. "It's obviously going towards a really good cause for them, and we're happy to help. I'm sure they're thankful."
While this is one of the events that is highly advertised throughout December, there are many opportunities for students to donate to research and care organizations, such as the American Cancer Society.
"It's like the Penny Wars, back when we did it in middle school. It doesn't have to be a certain way for you to contribute, and I think it teaches a great lesson to look at things from multiple perspectives," Jung said. "Throughout the school year, there are so many ways for students to get involved with great causes."
Even though this is not the only chance to donate to charity, there is an expressed interest amongst the Student Council regarding the union of the community. 
"This is our time to show who we are as a school district and a community," Mubeen said. "Hopefully, everyone is wearing pink on Friday, and everyone needs to be at the game to support not only Ladue but also the American Cancer Society."