Band is life for Lehde
The theatre is silent and dark, except for the single crying baby in the back and the fumbling people who take their phones out to record the concert. And all of a sudden, with just a single lift and a few movements of a baton, the band is brought to life and playing in unison with the waves and flicks of a foot-long stick held by Aaron Lehde. 
Every school year, Lehde hosts a vast array of performances at Ladue High School's Performing Arts Center, ranging from the annual Jazz Night to the Chamber, Percussion and seasonal concerts. Lehde, who has been the Director of Bands since 2011 and an associate director since 2002, wants students to be impacted by the study of music and the performing arts.
Lehde's own musical life began as a saxophonist in his fifth grade band having no musical training prior to then. His self-sustained passion for music brought him to where he is today, teaching the award-winning Ladue Symphonic Band and performing for renowned groups such as the St. Louis Symphony Orchestra. His dedication and passion that comes with being a musician is reflected in these achievements.
"There's a saying we have sometimes in the music world, 'I didn't choose it, it chose me.' And that's the best way to describe it. I was just fascinated by it. I hear these records of Charlie Parker, a great alto sax genius, and I heard recordings of him play and the back of my head blew off. I couldn't believe somebody's making this sound from an instrument. This is amazing. And I just wanted to be a part of that," Lehde said.
There are 102 members of the high school's band program, all of them being mentored by Lehde. Many students will tell you that Lehde's passion for music goes beyond the notes on the page and into the life skills that he teaches students through the study of music.
"I think the biggest thing that [music] can do for people, the study of music, is things that involve practice, a daily dedication to a long term goal. I think that that translates to anything. Repetition is the mother of all learning. That's something that I think is good for all students," Lehde said.
The technique of continual and dedicated practice is a course of action that Lehde tries to instill in all students to adopt in their own lives. Seeing the many accomplishments of the students in Ladue's bands, it seems Lehde has had a lasting impact on every one of them. 
"He makes sure that every student is practicing. For me as a student… he pushes me to my highest potential. And if it weren't for him, I think I would be in a lower place in my abilities," Gramm Raedeke, a freshman percussionist in the Symphonic Band, said. "Playing the drum set in the jazz band really gave me more confidence in playing drum set. Before that, it was just me in my basement. But playing with the group, playing with him, that was a good experience and I gained a lot from that."
Lehde has motivated Raedeke to desire more and more from performing. Raedeke was recently accepted into the 2019-20 Missouri All-State Band and is excited for the upcoming band trip to Chicago. Being a member of the band has set the bar high when it comes to how he can play at the highest level as well.
"I always strive to be better than I was earlier. So, right now I'm thinking, I have to be better than I was last year. Next year, I'm gonna be thinking have to be better than I was this year," Raedeke said. "But also the people around me the people in my class, what are they doing good at? And I want to be just as good if not better. I want to push myself to be the best I can be."
Being a mentor and professional musician, it is clear that Lehde has come a long way from his fifth grade band. Music has come to embody everything Lehde is.
"It's not an extra part of me that I put on from time to time. It's who I am. All my friends are musicians. It's difficult sometimes for musicians because music is played when everyone else is off work. So there's an odd juxtaposition where as soon as everyone gets off work, that's when I go to work," Lehde said. "And so you gotta have understanding people in your life who realize this isn't a hobby. It's your identity."
Leave a Comment
About the Contributor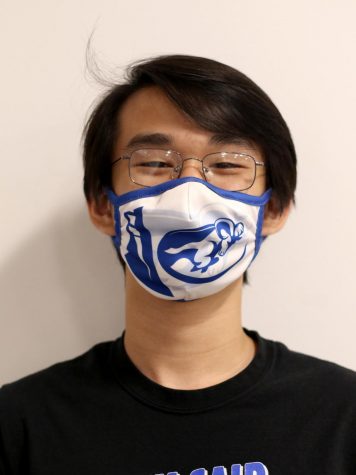 Allen You, Editor in Chief
Allen You is a senior at Ladue and the co-editor-in-chief for the Panorama. This is his second year on the staff. His guilty pleasure is listening to too...