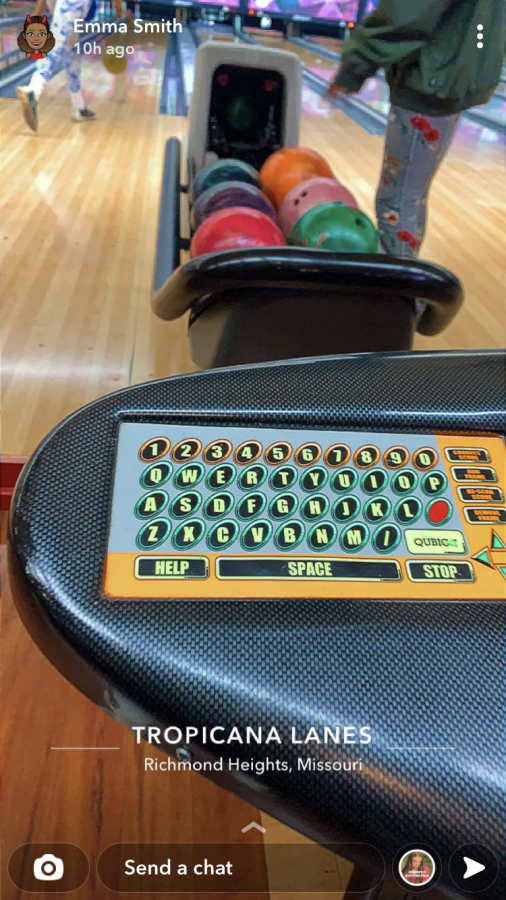 The majority of the senior class took a field trip to Tropicana Lanes April 20. This was the first senior field trip since 2019 and was organized by senior class sponsors Shruti Upadhyay and MaryKate Mortland. 
This field trip was initially scheduled for April 13, however, inclement weather caused it to be rescheduled. Also, in years past, seniors have attended a Cardinals baseball game rather than bowling. This was also initially planned for the class of 2022, but because of the Major League Baseball lockout, this trip wasn't possible to organize. 
"At first, I thought it was going to be mid since it wasn't the Cardinals game," senior Sam Liu said. "But, then I bowled a strike and it was so hype." 
Prior to the field trip, seniors gathered in the cafeteria and wrote thank you notes to teachers and other adults who impacted their educational careers. They were instructed to write one note to a teacher they had from kindergarten to fifth grade and one note to a teacher from sixth grade to senior year. 
"I wrote to Mrs. Kaupp," senior Cassie Friess said. "I thanked her for starting my interest in psychology, which is what I plan on studying in college. In addition, Mrs. Kaupp was always there to support me and listen."
Then, the seniors all either took the bus or drove to Tropicana Lanes. They were able to choose where they bowled and who they bowled with. Pizza was provided for lunch. 
"My most fun part was just being able to hang out and see everyone outside of school not under the stress of school," Liu said 
This trip was an opportunity for seniors to spend time together as their high school careers come to a close. 
"I feel sad to be ending my high school experience but excited to start a new experience in college," Friess said.