JV football team beats Ritenour 9/27
On Monday, Sept. 27th the Ladue junior varsity football team faced off against Ritenour at the Ladue stadium. The game ended with Ladue winning 20 -18. 
"I thought we had a solid week after getting punched in the mouth by Kirkwood last week," JV Coach Matthew Horn said. "We were able to bounce back. [The coaches] told [the players], you can react in two ways, you can sulk and cry about it or you can get better. I [think] a lot of guys did get better and it showed yesterday." 
Before the game members of the team took in the atmosphere, surveying their opponents.  
"I felt confident, going through warmups and looking over at their team," Noah Mitchel (10) said. "[Ritenour] looked like they had a lot of depth and a lot of good athletes that could play, but knowing my skills and the team around me I was ready to play a hard fought game." 
And indeed a hard fought game it was. Ladue got on the board quickly with Johnny Nichols (10) scoring on a pass from Richard McIntosh (10) at the end of the first quarter. 
"I thought that it was a great pass from Richard," Nichols said. 
After the quick score by Ladue, Ritenour made their mark, scoring three touchdowns and "Just seeming to dominate the second quarter," Horn said. The coaches let the kids know that they were capable of better. 
"We didn't play good football," Horn said. "We dropped passes, we made dumb mental mistakes and we did exactly the opposite of what we're coached to do and as a result, we were losing. The message [at halftime] was [to] get locked in and execute." 
After halftime the game turned around for the Rams. With a sack that forced a fumble from Mitchell and the scoop and score touchdown from Jacari Hayes (9). 
"When Noah and Jacari made that play and had the scoop and score that seemed to turn everything around," Horn said. "All of a sudden it's a one possession game now. There's more energy on the sideline and we just had a little more juice to us. We kind of needed that big play to kind of wake us up."
With another fumble recovery score by Nichols the game was tied. Finally a two point conversion by sophomore Levi Sandweiss (10) sealed the deal for Ladue, putting them up 20-18. 
"I was very satisfied with the team, in the first half we were down and no one was trying their hardest," Mitchell said. "I was picking everyone up and reminding the team we are a family and can't give up now. We put in so much work during the week with the coaches preparing us well to show off our skills."
Leave a Comment
About the Contributors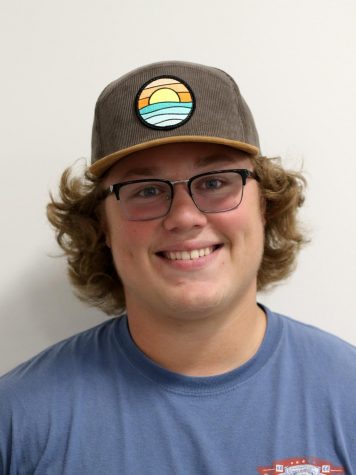 Max Eastman, Editor in Chief
This is senior Max Eastman's second year on Panorama, and he is the Staff Editor-in-Chief. Eastman loves all journalism but has a special interest in sports...
Mac Huffman, Associate Editor
This is Mac Huffman's second year on Panorama, they are an associate editor. Huffman is an infographic designer and is a sports photographer.